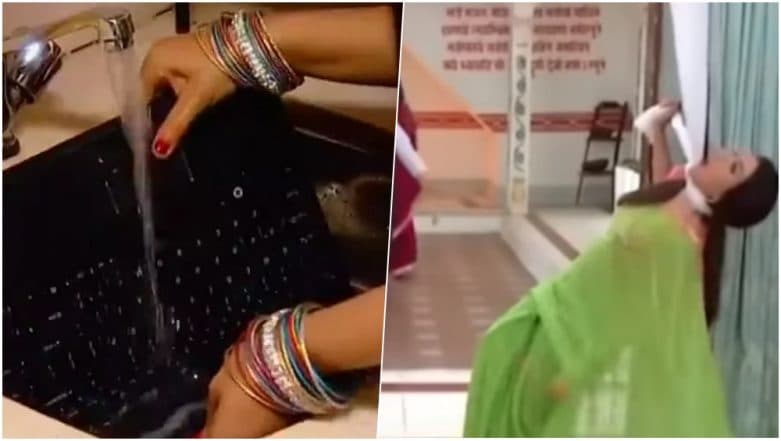 If you or your family is a frequent viewer of Indian TV serials, you know the kind of drama that unfolds on screen. Even the ones who don't will have a fair idea thanks to all the memes on Indian television soaps.  Family dramas or saas-bahu sagas have had a steady viewership and worked wonderfully on television over the years. Now a new TV serial named Kahaan Hum Kahaan Tum has started airing on Star Plus, starring actors Karan V Grover and Dipika Kakar Ibrahim. A video clip from this serial has impressed netizens for the lovely spoof they presented of a hospital scene. This video shows how a wife undermines a doctor, claiming her sindoor has more power to bring her husband back from the brink of death.  It hints at the kind of content that is shown in some of the Indian TV serials these days. The scene has prompted us to take a look at other instances of ridiculous scenes on Indian television.
Over the years, some TV scenes have become so common that it is no longer shocking. For example, the lead couple will visit the same temple at the same time so they can 'coincidentally "bump" into each other. Characters delivering shocking news has to repeat it thrice for effect (Kyaaa).
And one of the epitomes of ridiculousness is that if a character dies, their reincarnation is certain. So we have seen the plot presented differently in different shows. And the latest trend is supernatural powers. But then there are some super extra scenes that even the superheroes would cringe at. Ekta Kapoor Is Miffed With the Indian Audience For Liking Game Of Thrones And Mocking Naagin!
Some Ridiculously Funny TV Soaps
Washing Laptop Like Clothes
Star Plus' TV show Saath Nibhaana Saathiya, aired an episode in which the lead heroine cleans the laptop like clothes and then dries it on the rope. The shocked husband's face says it all. 
Slap Scene Gone Too Far
This is a very recent scene from Sasural Simar Ka, which again went crazy viral for its sheer stupidity. "A slap so hard, that even the curtains fall" could be a good tagline here, don't you think? Also, someone needs to slap some sense into the writers before they even think of such scenes. You'll know what we are talking about when you see the next video.
Simar Turns Into a Bee!
The show stings. Enough Said!
Special Effects FTW!
A show aired on Zee TV called Kasamh Se experimented with their editing techniques or rather had only one technique of zooming in and zooming out. The drama, the music, the changing of effects fit in at regular dialogues too. But given it was aired a decade ago, we can say the show was the trendsetter in creating drama, even if unnecessary.
If were to sit down and list such scenes from Indian TV soaps, it would be a day 's worth of entertainment. In fact, these scenes are so bad that they are good. If you are having a dull day, we hope this brightens you up. On a serious note, the above scenes leave us wondering, whether it is the viewers lack intelligence or the makers lack creativity. What else could explain such a poor quality of content for the masses who depend on TV as a sole medium of entertainment?