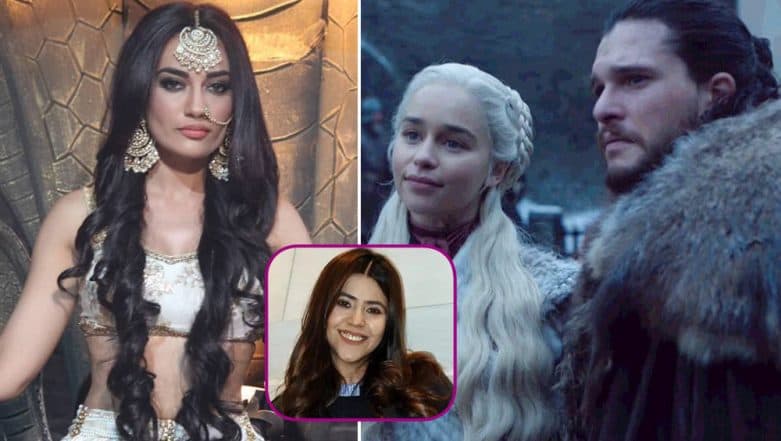 Ekta Kapoor has done what Aditya Seal and Varun Dhawan did some time ago! She compared popular HBO series Game Of Thrones with her TRP inducing TV show Naagin series. The producer expressed in her recent interview that the audience was being biased about the International content with the Indian content. She explained how GoT and Naagin are similar to each other and 'equally entertaining' and yet audience criticizes her show and lauds GoT. Aditya Seal Compares Student of the Year 2 with Avengers as If Varun Dhawan's Dilwale-Inception Joke Was Not Enough.
In her chat with TOI, she exclaimed, "What are the big shows that are working internationally, currently? People are watching dragons. It is uber cool for them to watch dragons, but when India watches naagins, it is not cool. Isn't this anti-populist? Why do we look down on the masses and their choices (sic)?"
Also, she compared Mihir's (a popular character from Kyunki Saans Bhi Kabhi Bahu Thi) to GoT's Jon Snow (Kit Harington). She complained about how people judged Mihir coming back from the dead and not Jon's resurrection!
She said, "Didn't Jon Snow return from the dead? If you are not the audience, you will criticise, but then, that's ringside play. Data proves that people are watching these shows because every time there is a kidnap, murder or a hero returns from the dead, there is a surge in ratings. It is escapism for the Indian audience."
Well, just as we mentioned above, the comparison was just similar to how Aditya compared Student Of The Year 2 to Avengers Endgame. Earlier, Varun Dhawan had compared Hollywood film, Inception to his flick Dilwale. There's nothing wrong in aiming to compete with these iconic cinematic pieces but blaming the audience for liking one more than the other, is simply sad. Only if they knew that it's not about the dragons or snakes, but how convincingly you portray them on the screen!