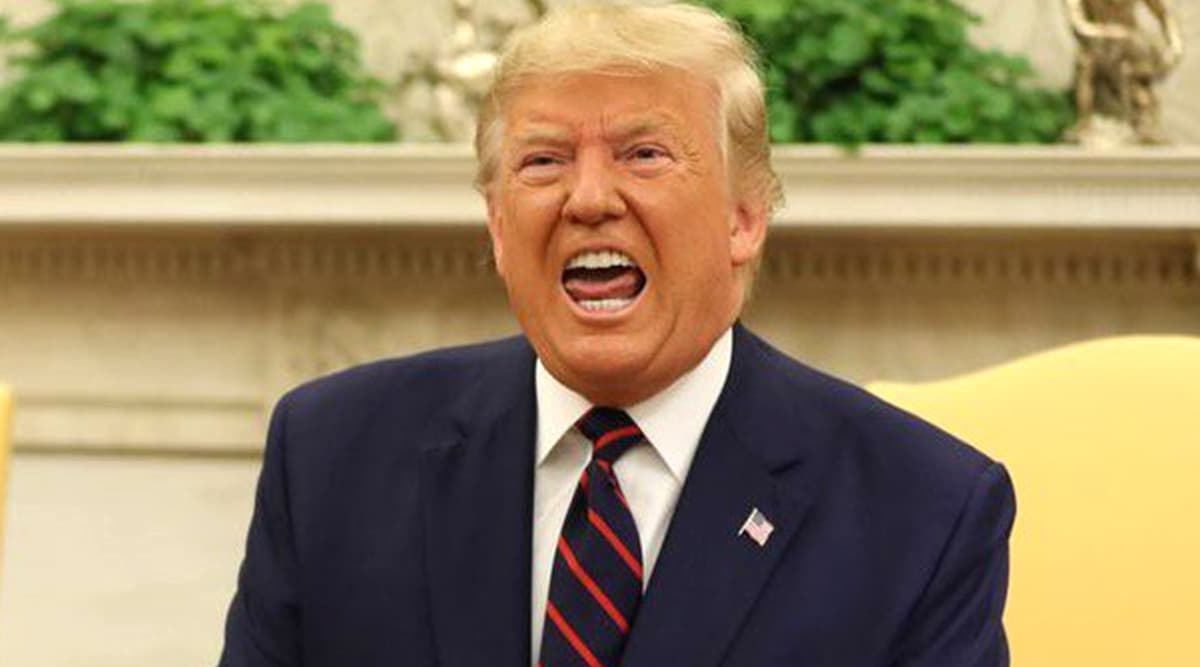 Donald Trump single-handedly made the entire internet cringe with a tweet. The President of the USA has never been well received by the masses and his tweets always get some serious backlash. But this time, it's not exactly backlash. People are getting uncomfortable seeing Donald Trump use a meme. He tried to shade Joe Biden once again, using a dead meme. The Nickelback "look at this photograph" meme from their song Photograph was everywhere back in late 2007-2010. But it's not a dead meme and it kind of feels like when your parents try to show you memes on Facebook but you saw them when you were 13. But unlike the fake laugh we give our parents, Donald Trump got brutally roasted on Twitter. Donald Trump an 'Illiterate', Has No Knowledge About Mahatma Gandhi: Asaduddin Owaisi Fumes as PM Modi Gets 'Father of India' Tag.
Memes are the best way to connect with this generation. The stupidest thing on the internet can become an obsession in the younger generation and memes can now decide how cool a person is. Donald Trump might've tried his luck with memes and tweeted out a Nickelback meme to look funny. But twitter was not impressed. Yikes! Here are some of the reactions under his tweets. Donald Trump Shares Video of Out-of-Control Beverage Cart at Chicago's O'Hare Airport, Twitter Compares it With US President's Tenure.
Donald Trump's Original Tweet
LOOK AT THIS PHOTOGRAPH! pic.twitter.com/QQYTqG4KTt

— Donald J. Trump (@realDonaldTrump) October 2, 2019
And It Starts
Lookie, Lookie!

LOOK AT THIS PHOTOGRAGH! pic.twitter.com/Ue4dbbDCXr

— Kim Franklin-Magana (@InspiringU2) October 3, 2019
Oh God NOO
What does Trump look like when he is scared?

LOOK AT THIS PHOTOGRAPH pic.twitter.com/Eh6eR0Y1iR

— 💙 Koko ✊🏻✊🏽✊🏿💙 (@Kokomothegreat) October 2, 2019
He Was Left Wide Eyed!
GET A GRIP! pic.twitter.com/zCJjlzwcsl

— Tango Charlie (@Mallocallidus3) October 3, 2019
Mr Tiny Hands
And....Look at THIS one:#ImpeachmentIsComing pic.twitter.com/LSQusPhUqA

— Betsy Dakak-Perpar (@BetsyDakak) October 3, 2019
Haters Will Say This Is Photoshopped
LOOK AT THIS PHOTOGRAPH! pic.twitter.com/HFbuS6jm4V

— TraitorTrump (@SeattleHypno) October 3, 2019
BURN!
NO, YOU look at this photograph from today's meltdown and tell us that this isn't the look of an unhinged, terrified, cornered criminal. Soon to be impeached 😁#ImpeachmentIsInevitable pic.twitter.com/mwTSxTW67Y

— Unhinged Howler Monkey BLOTUS 🖕 #ImpeachTheMF 🆘 (@PussiGrabnPOTUS) October 3, 2019
But Here We Are
I didn't think it was possible to feel bad for Nickelback

— Alex Skolnick (@AlexSkolnick) October 2, 2019
Could Be Soon
can't wait until elections are fought for using only memes

— Cyranek (@Cyranek) October 3, 2019
One of the Most Liked Tweets in the Trail of Replies
LOOK AT THIS PHOTOGRAPH (GIF) pic.twitter.com/CtyDf8fQqQ

— 💙 Koko ✊🏻✊🏽✊🏿💙 (@Kokomothegreat) October 2, 2019
Nickelback was one of the most hated bands but now people have started to like them after President Trump tried using their meme. They have actually started to feel bad for the band and to be honest, why were they so hated in the first place? We can't wait to see if they respond to Donald Trump for using their meme.