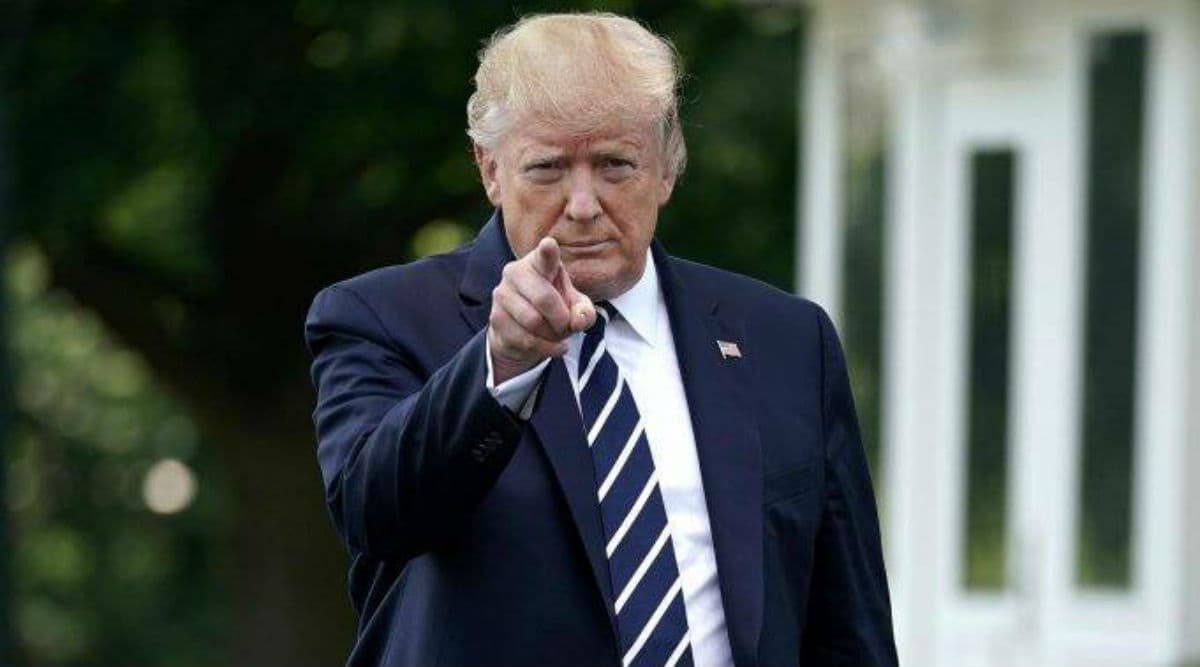 Washington DC, October 1: US President Donald Trump shared a tweet consisting a video showing an out-of-control beverage cart, but ended up getting trolled on Twitter. The incident took place at the Chicago's O'Hare Airport. However, Twitter users were quick to point out that the out of control cart resembled President Trump's presidency more accurately than anything else. President Trump is known to be a prolific Twitter user, but the latest memefest that the US President finds himself in is surely not bound to go well with the President, especially with the impeachment demands doing rounds. US President Donald Trump Turns Peshwa Bajirao and Dances to Ranveer Singh's Malhari Song and Netizens Can't Get Enough of This Viral Meme.
The original video was posted by Fox 32 News. The President of US retweeted the video with the caption, "Great job, just in time". His praise was for the workers who handled the situation well and did not let the situation get out of hand. There was also a parked airline besides the cart, shows the video. Donald Trump Trolled Again! Video of US President Boarding a Plane With Toilet Paper Stuck to His Shoe Goes Viral.
See President Trump's Tweet Below
Great job, just in time! https://t.co/KMUXtO8IYz

— Donald J. Trump (@realDonaldTrump) October 1, 2019
Here's How Twitter Responded
This video could literally sum up this week for Trump and his administration, and its only Monday pic.twitter.com/tQZjvucGP9

— InMinivanHell (@inminivanhell) October 1, 2019
Praise For the Tweet
Brilliant comparison 👊🏻😂😂😂

— BAMF ❤️to Laugh @ Stupidity (@1BADMFYO) October 1, 2019
And Then There Was This
— Zara Rahim (@ZaraRahim) October 1, 2019
"Your subconscious tweeted out the perfect impeachment metaphor. Note the people standing around doing nothing except narrowly avoiding getting hurt (Congressional Republicans). The guy who stops the cart is impeachment personafied," wrote a user to highlight the relevance of the tweet.
One User Had This to Say
That's President Trump taking care of China! So easy yet many just couldn't do it!

— Adas (@adasomg) October 1, 2019
Questioning President Trump's Excess Love For Twitter
Ladies and gentlemen...I present the United States president! He sits around all day tweeting and re-posting funny videos. SAD! #Trump

— Andy Ostroy (@AndyOstroy) October 1, 2019
In his other tweet, US President Donald Trump on Tuesday congratulated Chinese President Xi Jinping and his countrymen on the 70th anniversary of the Communist regime in the country but with a vow to prevail in the trade war and berating Beijing for not accepting an earlier drafted deal."Congratulations to President Xi and the Chinese people on the 70th Anniversary of the People's Republic of China!" the President tweeted today, on Tuesday.