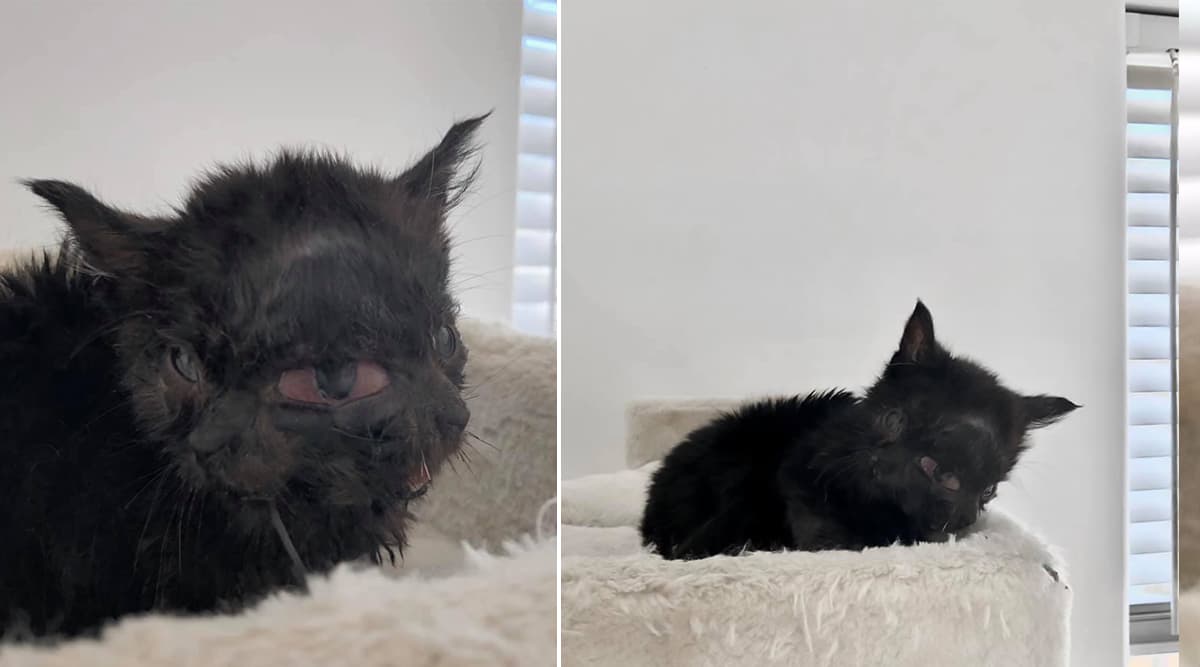 For Duo, things not the same as her counterparts. Born with a rare defect of having two faces, the cat has been forced to contend with more than most. But she is overcoming the incredible odds, thanks to her lovely owner, the tiny black kitten finds hope to live as she happily turns to four-month. Dr Ralph Tran, a vet, adopted Duo, reportedly in the middle of a move across the country from New York to California. Dr Tran's round-the-clock care has allowed Duo to beat the medical condition. Not only did she grown up to be a happy cat, but Duo is somewhat healthy and loves to play, just like other cats. The images and videos, show Duo and her rare condition and how she is celebrating life with the help of the owner, Dr Tran. Pet Cat's Reaction on Woman Teaching Her Dog to Swim Has Left the Internet in Splits!
Dr Tran encountered the little one over three months ago, when a friend introduced him to a tiny kitten her cat had given birth. At the time, Dr Tran was in the middle of a cross country move. He received a text from a friend whose cat had given birth to a "Janus kitten." Sadly, the woman's cat rejected the all-black kitten, probably because of the little one's health condition. Dr Tran knew, she would round-the-clock human care to stay alive. And that is what is she has been doing. Adorably named Duo, the kitten is struggling to beat the rare health condition. Cat-Sized Deer Believed to Be Extinct 30 Years Ago Filmed in Vietnam Forest. 
Watch Video of Duo, the Adorable Kitten:
Dr Tran has been tracking Duo's progress through a Facebook page, dedicated to the kitten, including many challenges she faces. He explained to People how initially she refused to feed and showed no interest in food. Hence, he patiently feeds her by tube and then syringes every five hours. Meet Brian The Cat, Resident Feline of Somerset Cricket Ground Who Loves Watching Cricket. 
View Pics of Duo:
Duo was born with a rare congenital disability which is termed as diprosopus, meaning she has one head, but two faces. Each face has a fully operational mouth, and nose and her face share three eyes. These types of cats are also known as "Janus Cats." They rarely live longer than a few days because of the complications that arise due to the uncommon condition. But Duo is a fighter, and she has a lovely owner who takes care of her 24/7. She is undoubtedly going to live longer and grow as a happy and playful cat!