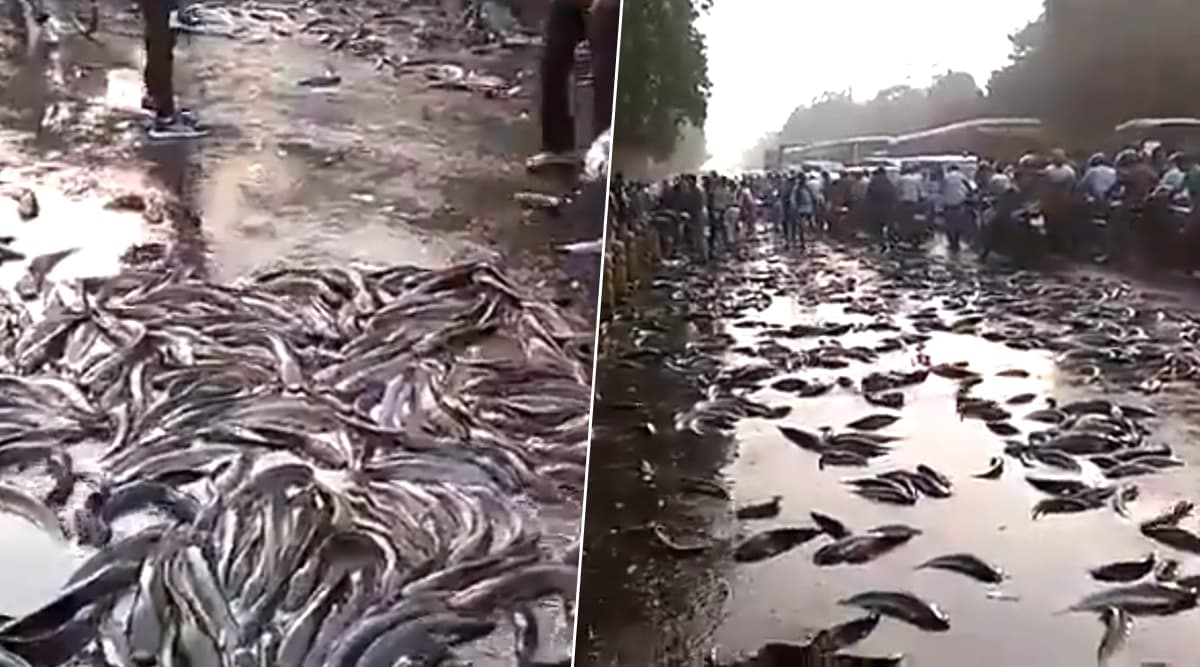 If you absolutely love eating fish then you would wish, you were in Kanpur yesterday. It so happened, that a truck carrying fish for sale toppled in the Armapur area leaving tonnes of fish lying on the road. Seeing so many of fish could cause unease to some, but locals took utmost advantage and scrambled to collect these fish for themselves. Video of the locals running around to collect fish has been shared on social media and it is actually funny. This Video of Men Passing a Beer Bottle Out of a Flooded Shop in Kerala Makes the Internet Talk About Malayali 'Spirit'.
The incident took place on November 12 in the Armapur area of Kanpur near Small Arms factory. A consignment of fish was being carried from a truck. When the truck passed over a speed breaker, the cover opened up leaving all the fish lying on the road. The consignment was quite big as almost the entire road was covered with fish. Suddenly seeing so many fish, the locals were not just amused but rushed to pick some of them and take back home. Someone managed to shoot this video and it quickly came on to social media. Chocolate Covered Road! Truck Carrying Liquid Chocolate Overturned on Polish Highway: View Pics.
Watch Video of Locals Collecting Fish Spilled on Road in Kanpur:
कानपुर के अर्मापुर में मछली से लदा ट्रक पलट गया,मछली लूट में जनता ने जाम लगा दिया ,पुलिस ने खदेड़ा !! pic.twitter.com/1cq7ROWTVU

— Gaurav Singh Sengar (@sengarlive) November 12, 2019
It is funny to see how people are scrambling to catch these fish, but also shocking the way they just manage to get their hands on the free stock. The batch of fish looked so fresh as some of them are seen flipping and writhing on the road. But what is amusing is people ready to just pick up and put these fish in whatever they have to carry them off. Some of them had a bucket with them while others did not mind putting them in the bag and leave!
This is not the first time people have gathered quickly to load in free stuff. In fact, at one time an armoured truck's side door opened on the highway near Ashford-Dunwoody Road, spilling about $175, 000 cash. People ran in to collect the free cash flying on the road. The authorities asked people who collected cash to return it or face criminal charges.