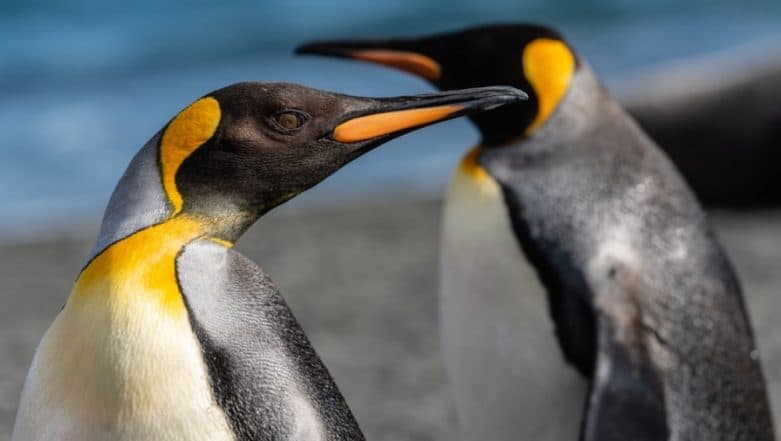 A gay penguin couple at the Berlin Zoo has adopted an abandoned egg. Skipper and Ping, the two male emperor penguins, arrived in the zoo as a couple in April. They have been caring for the egg since July. The egg was abandoned by the only female penguin in the group of six king penguins at the zoo. As she did not show any interest in her eggs, the gay couple decided to adopt it. Not even one chick was born at the zoo since 2002. Gay Penguin Couple Sphengic From Sydney Welcome Their Baby, View Cute Pic of The Newly-Born Penguin Chick.
Zoo spokesman Maximilian Jäger told the Berliner Zeitung newspaper that the pair have been trying to hatch fish and stones previously too. He said that they have been "behaving like model parents, taking turns to keep the egg warm" by nesting it on their feet under a flap of belly skin. However, Jäger said that the zoo is not sure if the egg is fertilised or not. #LoveIsLove at Sea Life Sydney Aquarium! Gay Penguin Couple 'Sphengic' Fosters Their First Baby; Watch Video.
The 10-year-old penguins moved to Berlin from a zoo in Hamburg, Germany. Gay penguins are often found in captivity and the wild. Male emperor penguins are known for hatching eggs in the wild. While it has happened earlier too, it is not common. As it is not sure if the egg is fertilised or not, it would take 55 days for the baby penguin to hatch.
In June, the London Zoo had held a Pride celebration for its same-sex penguin couples. The zoo hosts three same-sex couples. A lesbian penguin couple in the zoo is all set to become parents after the aquarium authorities at Sea Life in London let them adopt eggs. They were let to adopt the eggs as they put forward the good qualities of responsible parents.