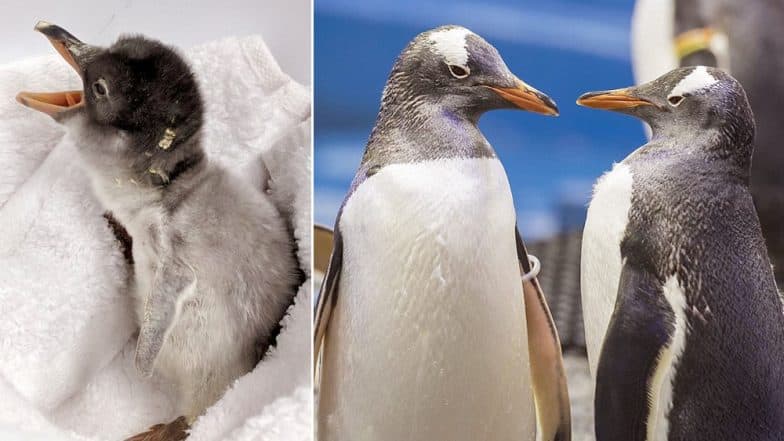 Penguins are cute and their babies even cuter. Adding more delight and love to their family, the gay penguin couple from Sydney have welcomed their first child. The famous couple Sphen and Magic termed as Sphengic has welcomed their first baby penguin chick at the Sea Life Sydney Aquarium. The name of the baby is not yet kept but it has been a week since they welcomed their child. The baby was born on October 19, Friday and weighed 91 grams at birth. The pictures of the baby penguin have been shared on social media and needless to say they are so adorable! Watch Video of Gay Penguin Couple Fostering The Egg. 
Penguins are birds who are known for their ultimate relationship commitments and Sphengic has been proving it too. The same-sex penguins had collected pebbles to create a nest to foster the egg. During the mating season, they prepared to welcome the child and the chick was born last week. Here's How Penguins Give Humans Ultimate Relationship Goals! Watch This Romantic Video.
Check Pictures of Baby Chick of Gay Penguin Couple
Stop everything, Sydney's gay penguins at @Sydney_Aquarium Sphen and Magic now have a chick pic.twitter.com/JNFxMTfeJb

— Jamie McKinnell (@jamie86) October 26, 2018
Tish Hannan, Penguin Department Supervisor at Sea Life Sydney Aquarium was quoted to a news report, "Baby Sphengic has already stolen our hearts! We love watching the proud parents doting and taking turns caring for their baby chick. With that said, the first 20 days of a penguin chick's life are the most vulnerable so it is extra important the chick is very happy, healthy and well fed by his parents."
The tiny penguin took about three days to fully crack from its egg. It will be kept with the dad for the next 5-6 weeks, before it takes its first swimming lessons. The baby is healthy right now and very soon guests will also be able to visit the aquarium and see the baby.