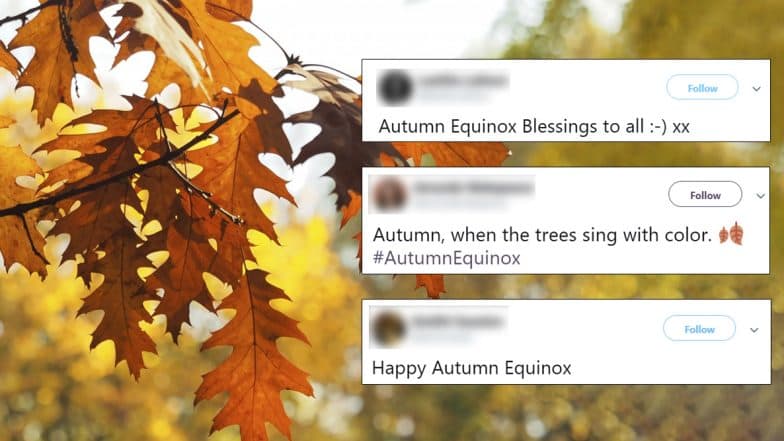 The First Day of Fall is here, and we are so thrilled. The air is filled with excitement to greet a new season. Autumn is highly awaited after the sultry summer sort of slurp all your energies at the start of every morning. And since it is already here, people could not hold much and shared their thoughts on Twitter. While the entire world is yet to wake up to the Autumnal Equinox, a section of Tweeple online have already surfaced the social media platform with heart-warming autumn quotes, greetings and images. The first day of fall on September 23, 2019, could not begin any better. Fast Facts About the Autumnal Equinox You Must Know. 
An equinox happens when the Sun is in line with the equator. Both the northern and southern hemisphere at this time experiences an equal amount of day and the night. Equinoxes happen the same moment everywhere around the world. It is the warmth of the cosy mornings that soothes us during autumn. Although the whole world is yet to feel the season, check out the early reactions that poured in on Twitter wishing Happy Autumnal Equinox 2019. First Day of Fall 2019 on September: What Is Fall Equinox? What Happens During the Autumn Equinox? All Your FAQs Answered. 
Happy Autumn!
Happy Autumn Equinox pic.twitter.com/qRYIzPheGD

— Gnōthi Seauton (@sevenneuter) September 22, 2019
Autumn Leaf Colour:
Autumn, when the trees sing with color. 🍂 #AutumnEquinox pic.twitter.com/CvnyjtSgLO

— Amanda Makepeace (@amandamakepeace) September 22, 2019
First Day of Fall is Here:
Autumn Equinox Blessings to all :-) xx pic.twitter.com/Ft72lDa481

— Laetitia Latham (@laetitia_latham) September 22, 2019
Did You Know This?
The September equinox is the moment when sun crosses the celestial equator. It is also taken as mark the end of summer and start of autumn in northern hemisphere. However, autumn arrives early in East Kazakhstan. The picture was taken early this month in Ust-Kamenogorsk. #equinox pic.twitter.com/wr7eqK9H5r

— Nurussaba Garg (@NurussabaGarg) September 23, 2019
As we have said already, these are the first reactions that have surfaced online greeting the new season. With the continuation of the day, we are hoping to have more glimpses of the first day of fall from across the world. And that can only happen when people online have met the new season. So, wake up Tweeple, if you haven't already, it is time to say hello to fall!