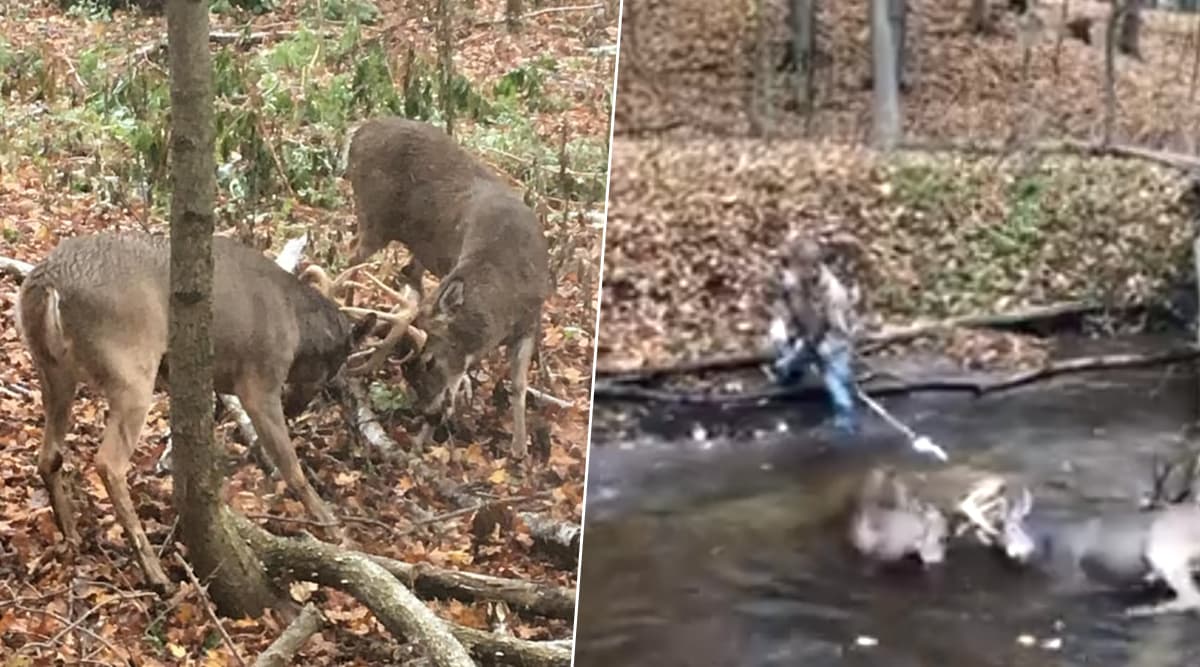 It is the season of deer rutting when the animals mate. Peak mating season for the deer starts close to Halloween and lasts through November. Hence, during this time, it is common to spot the animals in their unusual behaviour. Just caught in time, two horny deer were so much into the act that they locked their horns and were unable to free themselves. Videos and images posted on Facebook show the deer whose antlers had become hopelessly tangled, struggling to free themselves. Thanks to a hunter who was present at the spot and released the animals with the help of an electric saw. Watch Viral Video of a Stumbling Deer Accidentally Recreating Phil Collins Hit 'In the Air Tonight.' 
According to Daily Mail, the deer in their embarrassing situation was first spotted by an insurance agent Mark Johnson. He immediately contacted his friend and Kent County Corrections Officer Brad Lyons. Johnson knew that the animals would not be able to break apart on their own. As hilarious, it might sound at first, the animals were in their pitiful situation, and anything could have happened to them. Lyons witnessed the two rutting bucks with their antlers tangled together in an open field. He quickly stepped in and equipped himself with ropes, and a tree limb saw. Duck Fools a Dog by Playing Dead! Other Times When Animals Faked Death to Escape From Tough Situations. 
Armed with the saw, every time Lyons would approach the animals, they would evade him. The bucks then fall into the cold waters of Pratt Creek Lake in Michigan. With the help of an electric saw, the video shows how he freed the deer. At the end of the video, the pair was finally released as they run away into the jungle. Hopefully to mate and don't end up entangling their horns while being horny.
Watch the Viral Video Here:
During the rutting period, males often rub their antlers or horns on trees or shrubs, fight with each other, wallow in mud or dust, and even self-anoint. For different species, the timing of the rut depends on the length of pregnancy period, usually occurring, so the young are born in the spring. And deer rutting season, according to researchers, is the period between the middle of October to early December.