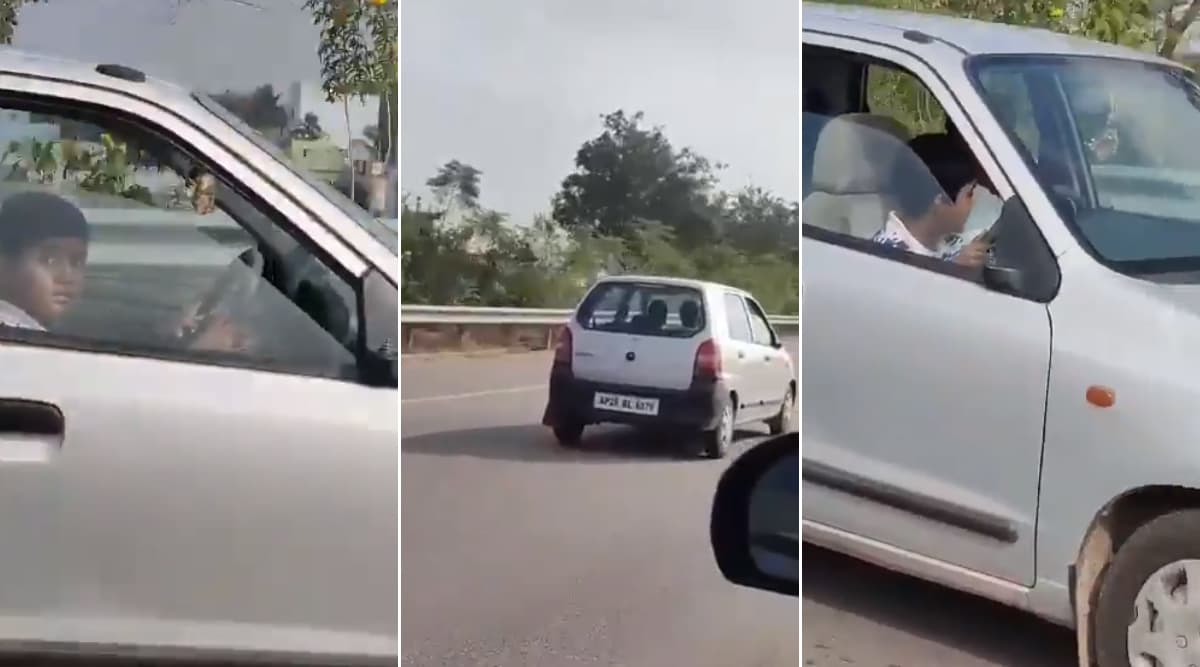 A very shocking video of recklessness on the part of parents has emerged from Telangana, Hyderabad. The video shows a child approximately about 10-years-old riding a car in the middle of the road. The child was driving while his parents were comfortably sitting on the backseat. The incident took place last week at the Outer Ring Road in the city of Telangana. The video was shared on social media by a Twitter user and it has received a lot of flak from netizens. Kerala Man's Driving Licence Cancelled for Allowing His Five-Year-Old Ride Scooter on a Busy Road, Video Goes Viral.
Twitter user Tiger Neelesh saw this sight on December 8 and was quick to take a video and post it online. In a series of tweets, he asked the Hyderabad police to take action against the parents who allowed the small one to take control of the vehicle. The video is going viral on social media with over 8,000 views and people too demanding that the parents need to be strictly fined, some even saying send them to jail! Mumbai Boy Survives Unhurt After Car Runs Over Him, Lady Driver Arrested After Video Goes Viral!
Here's The Video of Small Child Driving a Car in Hyderabad:
An Act of Stupidity or wilful Recklessnes. Video of outer ring road of Hyd on 8.12.19/ 9.32 Am. How these people riskng their lives n also others moving around. Car driven by kid aged around 10 in the presence of parents. check pics in trailing @hydcitypolice @HYDTP @HYDTraffic pic.twitter.com/N4Pg06b2oZ

— Tiger Neelesh (@TigerNeelesh) December 9, 2019
He also listed down the number of violations the family needed to be accounted for.
To the best of my knowledge following rules of traffic are broken

1) Car driven by minor.

2) Driving without license

3) Driving on wrong path on outer ring road

4) kid stopped on outer ring road for shifting the driver as the exit of outer ring road was near.

— Tiger Neelesh (@TigerNeelesh) December 9, 2019
The Kushaiguda Traffic Police Station later uploaded the receipts of the fine receipts issued to the owner of the vehicle. But people were not convinced as the receipt showed only a fine of Rs 2,000. People demanded that further strict action needed to be taken against the parents as this was a case of extreme recklessness.