Twitter found its recent dose of amusement in a new service started by IndiGo. A direct flight from Varanasi to Bangkok by the airlines has become the butt of all jokes on Twitter. Twitterati has named it as the 'paap praschit' route! Varanasi, situated in Uttar Pradesh is regarded as the spiritual capital of India.  Hindu pilgrims visit the place to bathe in River Ganges which is considered sacred in Hindu scriptures. Various funeral rites, rituals and ceremonies are performed there.
Whereas, Bangkok, on the other hand, is known for sex tourism and is considered as the ultimate party destination. Its vibrant streets, nightlife, beaches, pubs and clubs draw revellers from across the world. Twitter user Tarun Shukla who came across the advertisement took to social media as saying, "WhatsApp going mad with this. 'Paap and Praschit route announced by IndiGo'." IndiGo Becomes First Domestic Airline to Have 200 Aircraft in Its Fleet: Airline.
Check out the tweet here: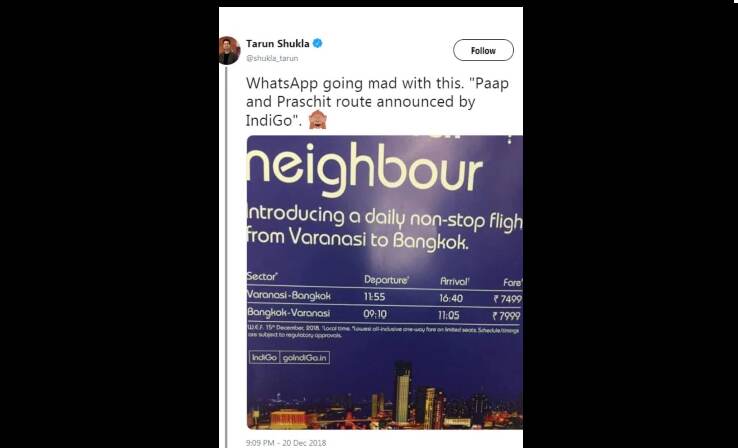 And Twitter couldn't stop laughing:
And If you notice Paap karna is cheaper that Praschit. Explains the Ghor Kalyug. https://t.co/og0KmLXxDY

— Yo Yo Funny Singh (@moronhumor) December 20, 2018
Twitter couldn't stop cracking up at the funny but obvious coincidence.
This one is surely an original. As original as it can get 😅👌

— Nivedita Bhasin (@nivedita_bhasin) December 20, 2018
According to reports, using the service, 70 passengers arrived in Varanasi on the first day and 179 went to Bangkok. The direct flight service was introduced by Babatpur Airport director Anil Kumar Rai. The service from Varanasi to Bangkok flies daily.