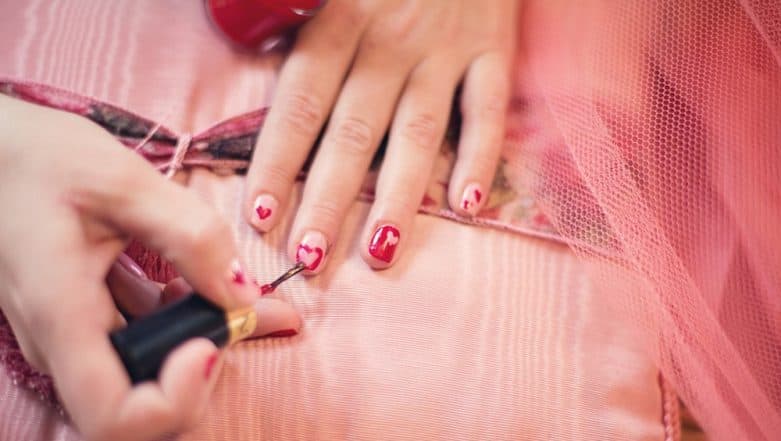 Every guy who is or has been in a relationship has said enough times that 'girls are complicated.' Eventually, as a relationship progresses, one would question themselves 'if she is the right girl for you?' It is difficult to gauge whether she is the one and there are many articles online to give relationship advice. A man named Rocky has published a guide to knowing girls based on their nails! Yes, a Twitter user has shared his book 'Nails at First Sight' which describes the characteristics of girls based on their nails. The book has got a great response from everyone and some girls have agreed that his observations are accurate. His advice or rather the guide is now going viral on the internet in less than a week. 'Mother' Giving Birth to a 'Baby' on Nails? The Crazy Video of a 'Baby Birth' Nail Art Tutorial Is Going Viral on the Internet.
Rocky posted a video which takes you through his guide of analysing girls based on their nails. He has done countless hours of research into the nails before publishing an entire guide on it. In a Twitter thread, he gave descriptions based on the nail colours, shapes and the nail size as well. He shared it on his profile last week. His analytical skills have impressed some women as well, who then posted their nail pictures, some seeking advice. Colour Pencils Nails The Latest Instagram Beauty Trend That Will Make You Go 'Why GOD Why!'
Watch 'Nails At First Sight,' a Guide to Understanding Women Based on Their Nails
Tired of chasing the wrong girl? Just found out your girl is psycho? Want to know the signs before making that investment? My book "Nails At First Sight" will help you. pic.twitter.com/oFRq9eXJkx

— Rocky (@ItsRockkky) February 26, 2019
It has received more than 4 million views and retweeted 90,000 times. Some users were expressing gratefulness to him for giving them the survival guide. One of the girls replied, "As a girl I can confirm this to be accurate." It is actually surprising to see how this man must have gathered all the data and made a comprehensive guide on analysing girls behaviour. Well, guys if you want to know if your girl is the right one for you, then you should start observing her nails.