In a funny yet weird incident involving food delivery app Zomato, it is the netizens who are having the last laugh. In a screenshot that is going viral, a Swiggy delivery boy, trying to assure a customer that he will receive the refund for his order, says "Maa Kasam, Milega Refund" (I swear on my mother you will get the refund) in response to a query on the same. Paytm Ties Up With Zomato to Offer In-App Food Delivery Service.
The screenshot of the incident that has gone viral shows the man asking if the delivery boy can ensure that he will get his money. To this the boy tries to convince him saying "Maa Kasam Milega." Food Delivery Apps Like Swiggy and Zomato Bet Big on Artificial Intelligence to Boost Delivery in India.
See the Screenshot in the Image Below: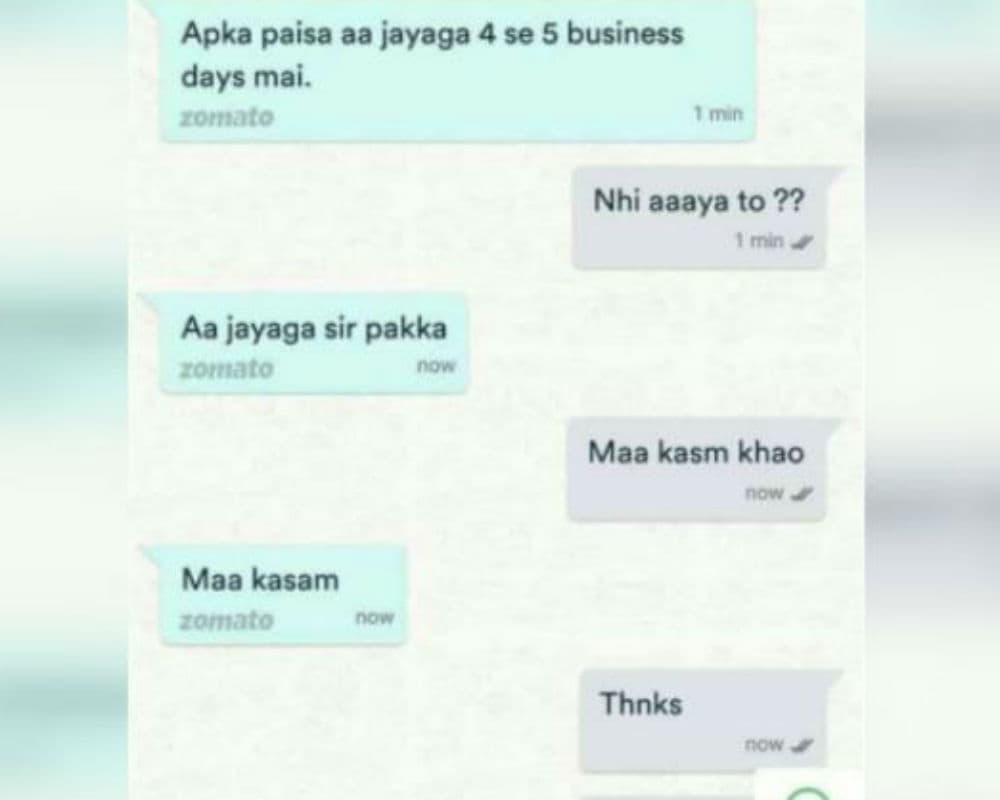 The incident had  users on Reddit, where this screenshot was shared, laugh their guts out. Even the person who posted the image, later appreciated the sincerity and naivety of the Zomato delivery boy.
Some people were so inspired by the screenshot that they started recollecting instances from their own lives when they had used the term "Maa Kasam" to get out of trouble or convince somebody to buy what they are saying. In this case, Reddit users lost their heart to an innocent reply that just happened to tickle their funny bones.
(The above story first appeared on LatestLY on Feb 13, 2019 11:59 PM IST. For more news and updates on politics, world, sports, entertainment and lifestyle, log on to our website latestly.com).