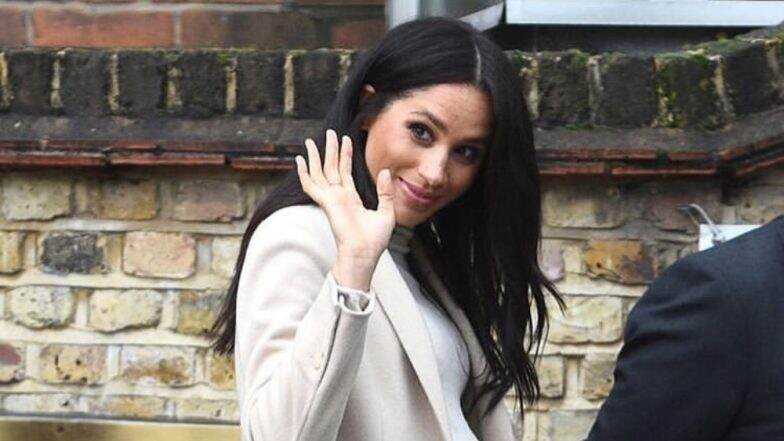 Meghan Markle was the one who had the last laugh here as she had the best response for being called fat. The Duchess of Sussex, on her visit to one of her four new patronages, Mayhew, a welfare organisation for dogs, cats and people locally and internationally, received a rather unexpected comment on her now pregnant self. Considering how Markle herself is a rescue dog owner, it is only befitting to see her propagate animal welfare among the masses.
As she stepped out in London in a lovely and chic monochromatic look, little did she think that she would be commented on. Markle chose an H&M MAMA maternity beige knit dress and layered it with a gorgeous cashmere coat by Emporio Armani. The Duchess completed her royal look with Manolo Blahnik slingback nude heels and a beige tote by Stella McCartney. She definitely looked radiant! She entered the organisation, she was greeted by a lot of volunteers. Markle's interactions with one of the volunteers caught the media's fancy as woman ended her conversation with her by stating this - "Lovely lady, you are! May the good Lord always bless you...And you're a fat lady!"
Needless to say, the video found itself on social media. However, it was Markle's response and how she embraced her body that impressed everyone. She said, "I'll take it!" with some chuckles and laughs. Quite a royal treat, this video was! Check it out below.
Do my ears deceive me? Quite possibly the first time the Duchess of Sussex has been called a "fat lady" and loved it pic.twitter.com/xR2NelQyAW

— Hannah Furness (@Hannah_Furness) January 16, 2019
Prince Harry and Meghan Markle are expecting their first child this spring. Earlier this week during one of her conversations with the civil crowd, Meghan slipped that the baby would be April born. With this, she confirmed the speculations regarding her baby's birth period. We can't wait to see them turn into parents!