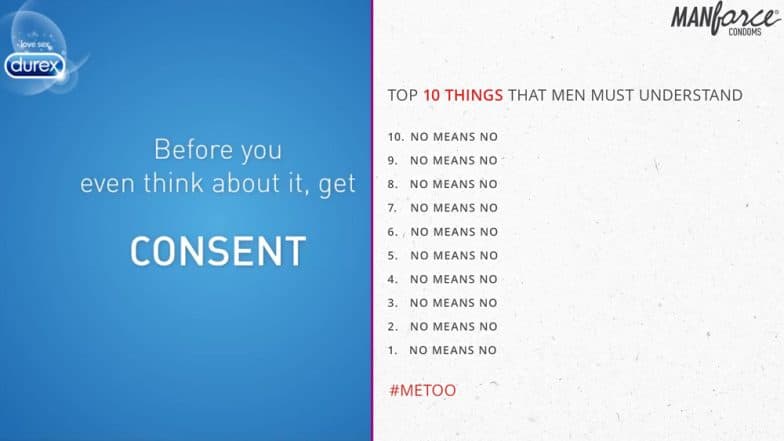 Mumbai, October 16: The #MeToo and #TimesUp has created a storm on social media, with women increasingly using these hashtags to name and shame their sexual predators. Some women have chosen to reveal their identity, while others have preferred to remain anonymous to share their ordeal with their harasser. Kwan Entertainment Head Anirban Das Blah Who Handles Deepika Padukone's PR Under Fire for Sexual Harassment Allegations Against Him.
Over the last one week, big names across the domain accused of sexual harassment have come forward. From MJ Akbar, Sajid Khan, Chetan Bhagat, Vinod Dua, AIB comedian Utsav Chakraborty and the list goes on. It all started with a Bollywood actress coming out in the open to speak about her sexual harassment with Nana Patekar. #MeToo in India: Terribly Tiny Tales Co-Founder Chintan Ruparel Steps Down Following Allegations.
Since the hashtag is creating so much noise on social media, condom brands found this as a great opportunity to engage with their target audience.
Durex
Durex has published a social media creative titled 'Before you even think about it, get CONSENT', and used the hashtag #TimesUp to create awareness.
Ask for it. #TimesUp pic.twitter.com/krFuh7rvOY

— Durex India (@DurexIndia) October 11, 2018
Manforce
Manforce has published a creative which reads- 'Dear Men, mend your ways! Top 10 Things that men must understand- NO MEANS NO and these are the same points for the rest 9.
Dear Men, mend your ways! pic.twitter.com/Wsx9boXj3a

— Manforce Condoms (@ManforceIndia) October 15, 2018
In a letter to Sajid Khan, IFTDA has demanded an explanation from the director for his alleged offensive behaviour within seven days. He has been accused of sexual harassment by multiple women. In Mumbai, Sukhnidh Kaur, a legal aid counsellor, has described the term consent and how it is misinterpreted in various situations.
The lyrics explain the importance of consent and how it should not be misunderstood. It is really heartening to see, how many women are coming out in the open to share their ordeal. We hope this movement will bring a change, and there will be a better working condition for all the women in the coming days.