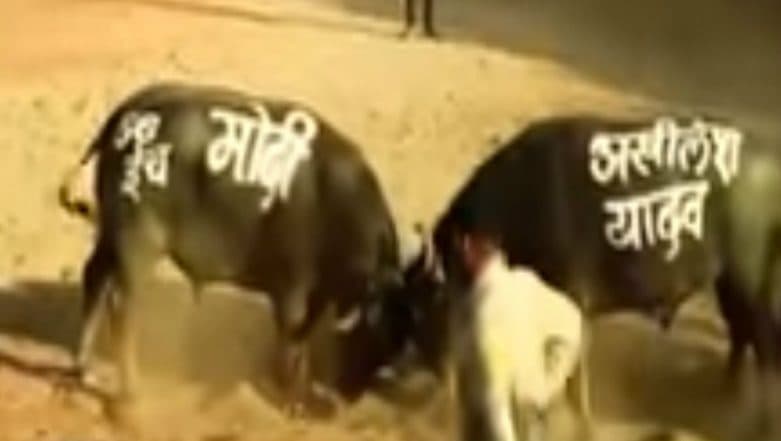 Lucknow, November 2: Politics in India has its own flavour. And while the political leaders fight it out before the polls in the rallies and campaigning, the voters aren't far away from having their battles. One such video has emerged from Uttar Pradesh, where a bull fight was organised between Prime Minister Narendra Modi and Akhilesh Yadav. Uttar Pradesh CM Akhilesh Yadav Not to Attend RSS Meet in Delhi.
Though it is not clear when was this video shot, the video shows two bulls with the names 'Narendra Modi' and 'Akhilesh Yadav' written on them. Prime Minister Narendra Modi Most Liked Leader on Facebook: Global Report 'World Leaders On Facebook'.
Watch the Video Below:
The background noise in the video suggest many people were present at the time of recording the video. The video ends on a funny note, though. While everyone was curious as to who would win 'The battle of the bulls', both the bulls ran away before the fight could reach a conclusive end. The video ended showing the villagers chasing the bulls amidst the chaos.