While Yanny or Laurel audio to continues to catch the fancy of social media users across the globe, here is already something new for the internet to talk, debate and discuss. The newest thing internet users are demanding is the addition of the word 'yesn't' to the dictionary. It is not a casual Twitter thread, but a petition on Change.org that is demanding to change the word 'no' to 'yesn't'. The petition has gone viral on social media with over 34,000 signature at the time of publishing this article.
The petition is receiving is tremendous support with hundreds of internet users signing it every hour. The 'word' shouldn't be 'no,' it should be 'yesn't,' says petition creator Ewan Maloney. The description of the petition reads, 'My Jeff' because the internet and its memes find way everywhere. And don't be surprised if you come across 'yesn't' memes, because that is where it all began.
Here is a screenshot of the petition filed on Change.org: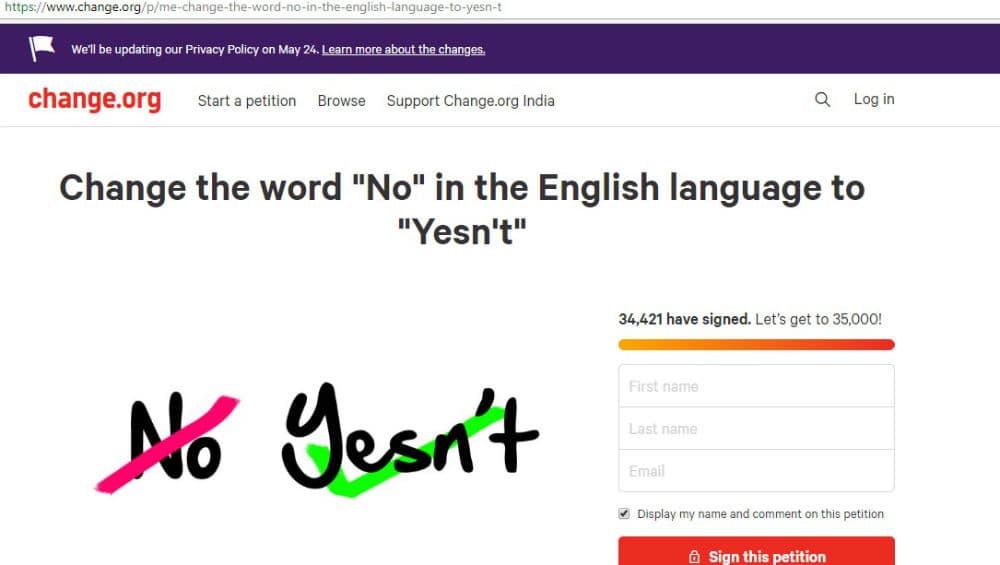 According to Know Your Meme, 'yesn't' first gained attention on the internet in April 2008 as an entry in Urban Dictionary. The 2008 definition means 'maybe yes and maybe no'.
Following is an example:
Q: Do you feel like doing something tonight?
A: Yesn't
The No/Yesn't debate started a lot of hilarious discussions on Twitter. An old joke has been very well blown out of proportion with demands for change in the dictionary. With no doubts, English is a funny language and internet is all set to make it funnier. Well, I yesn't sure about this internet demand.