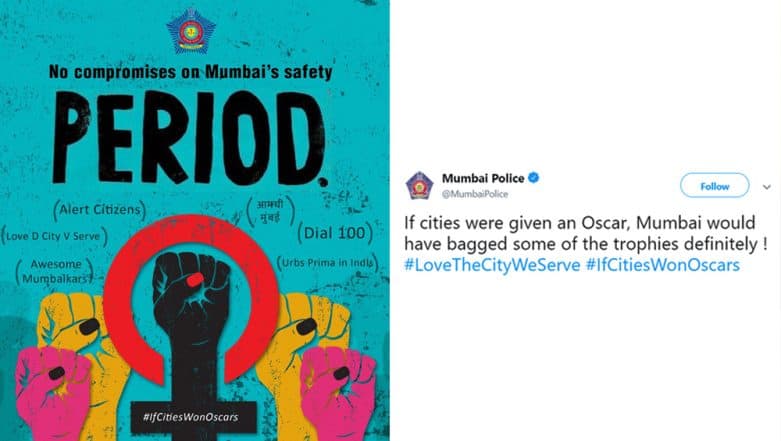 Mumbai Police's Twitter team has always gone an extra mile to highlight the subject of Mumbai's safety via social media. They have always used different trending topics and to share their messages about security that are both interesting, and fun. This time Mumbai Police tweeted taking Oscars as their peg, and it is really interesting. Probably the happiest news for Indians all cross is that Guneet Monga's Period End Of Sentence has won an Oscar for the Best Documentary Short Subject Category at Oscars 2019. And this documentary film about the struggle of women and targets the deep-rooted stigma of menstruation was able to beat nominees like Black Sheep, End Game, Lifeboat and A Night At The Garden. It focusses on the work of real-life 'Pad Man' Arunachalam Muruganathan. Mumbai Police's Dig at Hardik Pandya and KL Rahul's Koffee With Karan Controversy Is Beyond Quirky, Reactions Win Twitter.
Mumbai Police tweeted with a caption that read: "If cities were given an Oscar, Mumbai would have bagged some of the trophies definitely! #LoveTheCityWeServe #IfCitiesWonOscars." While expressing their love for the city, Mumbai Police sent across a strong message.
Take a look at the tweet from Mumbai Police:
If cities were given an Oscar, Mumbai would have bagged some of the trophies definitely ! #LoveTheCityWeServe #IfCitiesWonOscars pic.twitter.com/V9Zr5tDfTZ

— Mumbai Police (@MumbaiPolice) February 25, 2019
Mumbai indeed would win many prizes if cities in India won Oscars. In conversation with IANS, Producer Guneet revealed "This started seven years ago with raising money and donating one pad machine... then thought the team should make a movie for better awareness. Action India from India helped on the ground in putting a machine. Rayka Zehtabchi and Sam Davis captured all of this so beautifully with Mandakini Kakar producing for Sikhya Entertainment. Today here we are! All the way to Oscars and have put this story on the map! Whatever may happen.... team Period. End of Sentence is already a winner."