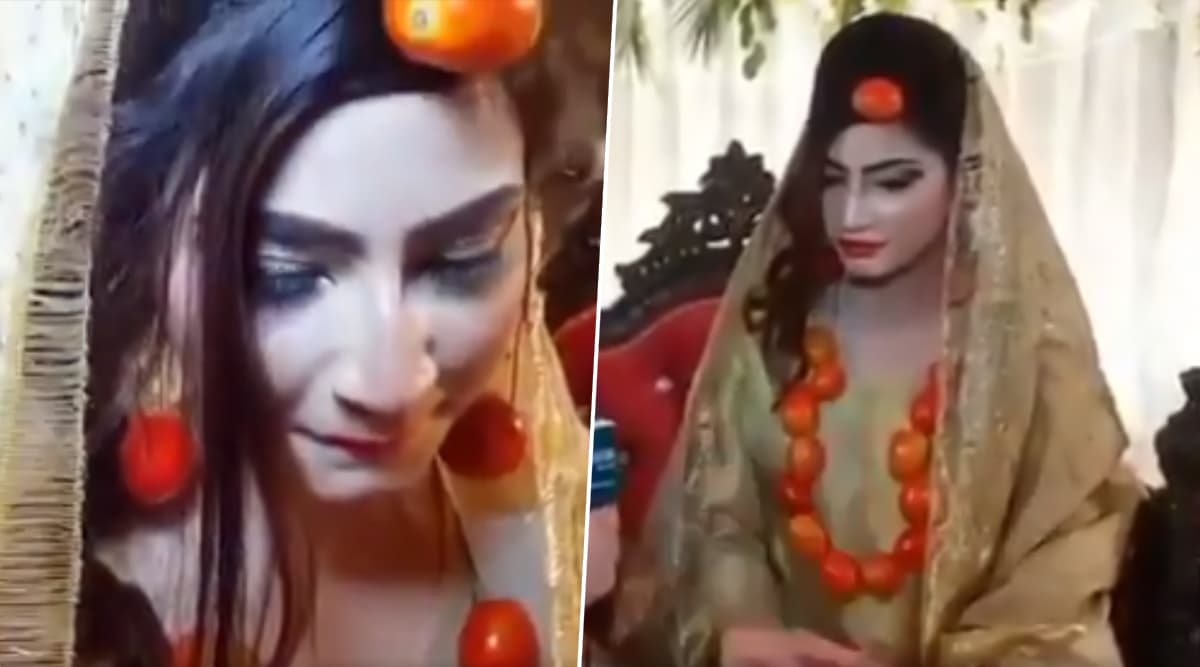 Most of the households use tomatoes daily while making food. Pakistan currently is dealing with very inflation of tomatoes. The prices of tomatoes are going as high as Rs 180 per kg to Rs 300 per kg. Thus tomatoes have become no less than a gem in the country and a bride took it way too seriously. A Pakistani bride decided to wear tomatoes like jewellery by adorning garland and bangles made of them. A video of this bride was shared on social media and it is going viral. And needless to say, Twitterati is amused some of them giving funny reactions. The bride boasts about receiving tomatoes as a gift from her family and says she will preserve it for use in future. While it is a funny video, it really mocks the situation faced by the residents nowadays.  Pakistani News Anchor Claims to Explode 'Atom Bomb' in India After Farmers Stop Exporting Tomatoes, Trolled on Social Media.
Pakistani journalist Naila Inayat shared a video of this bride speaking to a local journalist. In the video, the bride mentions that her family gifted her three boxes of tomatoes and is quiet amused herself with the unique jewellery. "She says the family who has given her tomatoes and pine nuts have given her everything." She also adds that the prices of tomatoes are rising so much day by day, that it has become no less than gold when compared to the value. She also says this garland will be useful to her when the prices hit high in the days to come.
Watch Video of Pakistani Bride Wearing Tomato Jewellery:
Tomato jewellery. In case you thought you've seen everything in life.. pic.twitter.com/O9t6dds8ZO

— Naila Inayat नायला इनायत (@nailainayat) November 18, 2019
The video is going viral and has got over 26,000 views already. Some people have left some funny comments on it too. Check how people reacted.
Valid Advice
Bakree se door rehna 😉

— Tʜᴀᴋᴜʀ Jɪᴛᴇsʜ Sɪɴɢʜ (@jiteshsinght) November 18, 2019
Tamatar Wale!
Hum Tamatar wale hain 😂😂😂😂😜😜😜

— JP (@JPulasaria) November 19, 2019
She Could Have Tried This
— Abhishek Sharma (@abhishekjk121) November 19, 2019
Innovation!
🤣🤣 How innovative!

— Shefali Samyal (@shefalisamyal) November 18, 2019
Many users questioned if this was a parody as it seemed like one. The bride also spoke like she is joking about the whole thing. Well, but the point is clear that the prices of tomatoes are skyrocketing in the country. According to reports, the country is even considering to import tomatoes from Iran as the prices are affected due to lack of imports from Iran. Ill-timed government policies and heavy rains are also factors affecting vegetable prices.