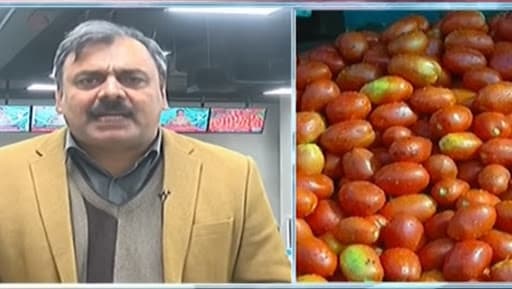 New Delhi, February 24: A week after the dastardly terror attack on CRPF convoy in Pulwama, Indian farmers have stopped exporting tomatoes to Pakistan, and this has brought angst among the Pakistani newsmakers. In a shockingly bizarre move, the news anchor of a Pakistani news channel even claimed that their country would give a befitting reply to this by exploding India with 'atom bomb' and after that was trolled on social media.
A Pakistani journalist was seen shouting, "Ye tamatar hum Rahul or Modi ke muh pe marenge. Ye India ne gandi aur neech harkat ki hai" (We will throw these tomatoes on the faces of Rahul Gandhi and PM Narendra Modi. This is a very shameful act by Indians). The news anchor even opined, "Waqt aa gaya hai ki tamatar ka jawaab, atom bomb se diya jaega" (Time has come to give a reply of tomatoes with atom bomb). PM Narendra Modi Dares Pakistan Premier Imran Khan to Act Like 'Pathan' on Pulwama Strike, Says 'Time Has Come to Stand True to Words'. 
Soon after the video was uploaded on social media, the journalist was trolled for his nonsensical thoughts and was blasted. He was even trolled for pronouncing 'Tauba Tauba' 18 times. Not only this, this journalist brought entertainment to the people in the time of tensions between the two countries.
Watch the Video:
Here are some of the tweets:
To save my Nation from NUKLAR ATTACK I sent 3 KG Tamatar to Bhikhari Pakistan #TaubaTauba pic.twitter.com/ODMmMqStEp

— Tajinder Pal Singh Bagga (@TajinderBagga) February 24, 2019
Seriously , these tv channels have only succeeded in providing entertainment to the Indians

— Manjeet Bagga (@Goldenthrust) February 23, 2019
Ek Joke Aur Please 🙏 pic.twitter.com/o6Tp8d4vqC

— Kαílαsh вíshnσí (व्लादिमीर) (@rising_emperor) February 23, 2019
— freeko (@freekoparker) February 23, 2019
एटम बम से जवाब देंगा पाकिस्तान हँसी आती हैं ऐसे लोगो पर जिनको ठीक से बोलना भी नही आता है,,,

— pooja_rathore (@poojarathore56) February 23, 2019
Yeh tauba tauba Kya h 😂🤣😂🤣😂🤣

— Kaju Katli (@kaaju_katli) February 23, 2019
Piche log hass rahe hain usake😂😂😂

— anand آنند आनंद (@sonavaneanand) February 23, 2019
The journalist was replying to express his opinion after Indian farmers decided that they would not export their tomatoes to Pakistan, following Pulwama terror attacks, where 40 CRPF personnel were killed when an explosive-laden vehicle rammed into their convoy on February 14.
A farmer - Ravindra Patidar stated, as quoted by ANI, "We are farmers, and we grow tomatoes. We also export tomatoes to Pakistan. And by eating our food, they are killing our soldiers. We now want Pakistan to get destroyed. We will also not let any other country sent tomatoes to Pakistan."