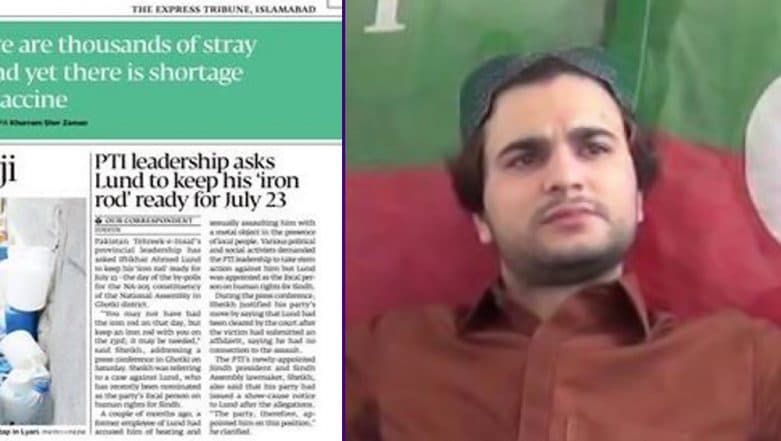 One of the toughest parts of making a news piece is framing the headline. It should be crisp and comprehensive, conveying the essence of the article. But there have been numerous instances of headline blunders before. However, the latest one made by a Pakistani daily, The Express Tribune is making people laugh out loud. The news article was about Haleem Adil Sheikh, Tehreek-e-Insaf's provincial leadership asking PTI local leader Iftikhar Ahmed Lund to keep an 'iron rod' ready for the day of by-polls. But in a not very wise play of words, the headline read, "PTI leadership asks Lund to keep his 'iron rod' ready for opponents." The word Lund is although a surname, it also is a slang used for male genitalia in Hindi and Urdu. Twitter could not stop laughing at the headline and a screenshot of the headline has been going viral ever. Julia Roberts' 'Holes Get Bigger With Age' Says a Typo in New York Local Newspaper Headline, View Pic of The Glaring Error!
Iftikhar Ahmed Lund has accused of beating and sexually assaulting his former employee with a metal object in front of local people. But despite people demanding stern action against the PTI leader, he was later appointed as a focal person on human rights for Sindh. During a press conference, provincial leader Haleem Adil Sheikh warned him to keep an iron rod ready on the day of by-polls for the NA-205 constituency of the National Assembly. While that was the gist the story, the headline grabbed the spotlight due to the proximity of the words "Lund" and "iron rod"! Twitter could not stop having fun with it. Pakistani News Anchor Claims to Explode 'Atom Bomb' in India After Farmers Stop Exporting Tomatoes, Trolled on Social Media.
Check The Viral Tweet About Funny Headline in Newspaper:
Headline of the day. pic.twitter.com/73pFwoMUmx

— Naila Inayat नायला इनायत (@nailainayat) July 22, 2019
Soon after the tweet went viral, the newspaper changed it on their online portal but that's how it went in the print version. Twitterati is great at keeping such memories. Check the funny reactions on this headline.
Vulgar headline
— buckyball (@Buckyball_60) July 22, 2019
Twitter is good at word play too!
Give the Editor No ball prize

— Saurabh (@saurabhb007) July 22, 2019
Who are these people?
— logical thinker (@murthykp) July 22, 2019
Where was the editor?
This can't be a coincidence. Just see the headline 🤦🏻‍♂️ Editor must be laughing his balls out after publishing this 😂

— Azam Shahzad (@Azamshahzad1) July 22, 2019
Meanwhile, some people explained that the Sindhi caste name is spelt as Loond. But, by then, the damage was already done. The headline may have been written in all earnestness and not necessarily done by a perverted scribe. But can we really blame our Twitterati?