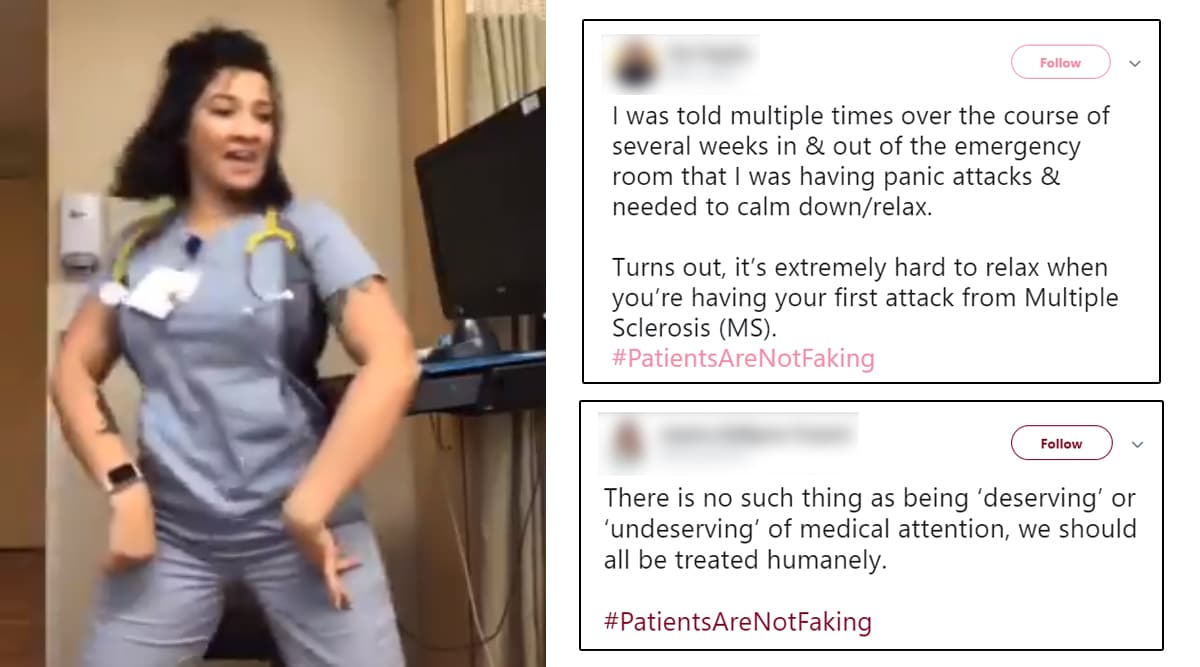 If you are active on social media, you definitely know what currently is raging the people online. And if have seen the video, even you are equally angry. A TikTok video of a nurse has recently gone viral, where she ruthlessly mocks patients over health issues. The clip has sparked debate ever since it has surfaced. Although intended to make fun content, people are not at all impressed with the Nurse's apparent comedic video. In no time, netizens began to troll her stating her content was distasteful and disrespectful to the patients. Some even highlighted the horrific medical experiences they had where their health conditions were being ignored by professionals for a longer time. Now it has taken another twist! Twitter began to trend #PatientsAreNotFaking, accompanied by their horrifying medical experiences when doctors or nurses had let them down by ignoring or minimising their symptoms and pain. Nurse Ruthlessly Mocks Patients Over Health Issues in a Viral TikTok Video, Leaves Twitterati Shaking With Anger!
In the viral video, Danyelle Solie, who goes by the handle @DamnDRoseTweets on Twitter, is dressed in a hospital gown struggles to breathe heavily on the one side and on the other being the nurse, she dances and sings along to her patient's breaths. She regularly posts funny TikTok clips online. But this went too far! The video was staged, and Danyelle played both the role of patient and nurse, she captioned it as "We know when y'all are faking." Through her videos online, it appeared that Danyelle is a nurse by profession and that even made the matter worse.
Here's the Viral Video:
We know when y'all are faking 😂😂 pic.twitter.com/uBV9LjXN3W

— D Rose (@DamnDRoseTweets) November 19, 2019
Twitter went furious at Danyelle's mockery to patients' health conditions and even wondered how she must behave with people visiting her with their concerns when she is on duty. While only a section of Twitter supported Danyelle noting that it was only a "joke," many trolled her on social media. Now with #PatientsAreNotFaking hashtag, people are sharing their horrifying medical experiences where the medical professionals ignored and minimalised their patients' health conditions.
Netizens Aren't Impressed!
I was told multiple times over the course of several weeks in & out of the emergency room that I was having panic attacks & needed to calm down/relax.

Turns out, it's extremely hard to relax when you're having your first attack from Multiple Sclerosis (MS).#PatientsAreNotFaking

— Tori Saylor (@tori_saylor) November 23, 2019
'Patients Are Not Faking' Trends Online:
There is no such thing as being 'deserving' or 'undeserving' of medical attention, we should all be treated humanely. #PatientsAreNotFaking

— Jessica Kellgren-Fozard (@JessicaOOTC) November 23, 2019
People Troll Those Who Supported Danyelle's Video:
Any medical professionals who see the stories in #PatientsAreNotFaking and defend that video as just a joke should really not be in the medical field.

Full stop.

"Unwinding" from your job shouldn't include perpetuating harmful narratives in patient care.

— Crutches&Spice ♿️ (@Imani_Barbarin) November 23, 2019
Awareness to Spur Change!
To clarify: it's not "great" to see the stories of so many who were not believed, but it is good / important to spread awareness of this issue in hopes it can spur change. #PatientsAreNotFaking

— Cheryl Crow, OT with RA (@realcc) November 23, 2019
Listen to Your Patients!
I would encourage anyone working in healthcare to read the stories of #PatientsAreNotFaking. Our hidden curriculum in medicine often teaches us to discount patient symptoms. It's dangerous and unethical. Listen to your patients.

— Colleen Farrell, MD (@colleenmfarrell) November 23, 2019
Danyelle came out to Twitterati Followed by Trolls: 
I am both a health care provider AND a patient. I see both sides of the spectrum and have had my share of problems w/ providers.

I also know myself. I know how much I love my job. I know how much I care for the people I come across. And I know the positive difference I make.

— D Rose (@DamnDRoseTweets) November 22, 2019
Social media is a fun place for sure, but at times, one needs to perform in an accurate manner. Not every kind of content can be taken as funny. Especially with cases like this, where most of us might have gone through such experiences that only deteriorated our or closed one's health. The video made was only fun-intended. Some patients might exaggerate their symptoms, but these individual cases should not be viewed as the norm. And that is what Twitterati pointed out!