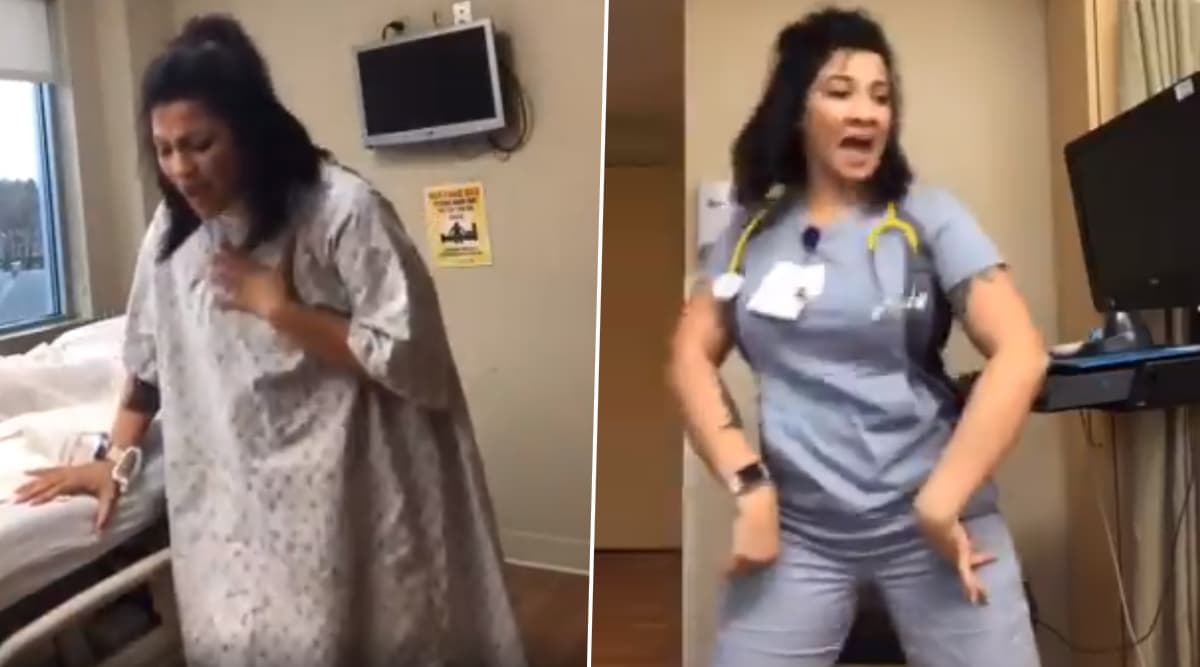 There is a thin line in making funny videos and making fun of someone. And that rule vehemently is considered in the social media world where mockery is every hour game. A nurse had made a video on TikTok mocking patients who apparently exaggerates their health condition. But it did not impress the netizens who are trolling the woman for crossing the line. The clip quickly gained attention online. People felt their medical struggles had been ignored or minimized by medical professionals like her. Twitterati is left shaking with anger as the nurse ruthlessly mocks the patients over the health issues. Tik Tok Video Recorded by Nurses Inside Special Neonatal Care Unit of Hospital in Odisha's Malkangiri; Show-Cause Notice issued. 
Twitter user D Rose made the viral video. In the clip, she portrays a medical professional "catching" a patient faking severe shortness of breath. D Rose reportedly is a healthcare provider in real life, as her TikTok suggests. This even made the situation worse. While the clip intended to be funny, it actually serves as a dark reminder that a few doctors and nurses are suspicious of our symptoms. D Rose, on the one side, acts to having difficulty in breathing, while on the other side, she dances it out. The video is captioned, "We know when y'all are faking."
Watch the Viral Video:
We know when y'all are faking 😂😂 pic.twitter.com/uBV9LjXN3W

— D Rose (@DamnDRoseTweets) November 19, 2019
The video did not impress the netizens at all. It shows that patients supposedly "exaggerate" their symptoms, warning us that nurses know who is faking. People even shared their tragic experiences when they had visited a medical professional and been brushed off.
Here Are the Reactions!
Someone notify me when she gets fired! This is trash pic.twitter.com/fQirlCHAL0

— Orincy Whyte Designs (@OrincyW) November 21, 2019
Some Horrific Medical Experiences!
... my mother had to have 2ft of her small intestines placed back & was near death because of an undiagnosed hernia rupture. she went to the doctor a year earlier complaining about the pain & they didn't believe her.

... headass. 😒 pic.twitter.com/sBClLH6sq6

— ً (@leiakanani) November 22, 2019
Here's Another Incident!
basically same thing happened to my mom at one hospital, they told her it was gas and to walk it off. she came home i sent her to another hospital and the doctors there said the docs at the old hospital cant actually be licensed practitioners

— ❄ Kooriaisu the Blizzard Wizard❄ (@Kooriaisu) November 23, 2019
Sickening!
This is sickening as hell

— J. A. G. 🐴🦋🇺🇸🐩 (@puppyluvr312) November 22, 2019
Not all videos are well received. And social media users should think before making such disgusting content. We understand that it intends to be funny, but also cannot ignore the many stories when medical professionals have ignored us, moments when they have not taken us seriously. What will happen when we stop having confidence in doctors or nurses? They hold significant responsibility in society. And videos like this mocking the patients are not really helping in making the surrounding better to survive and trust.