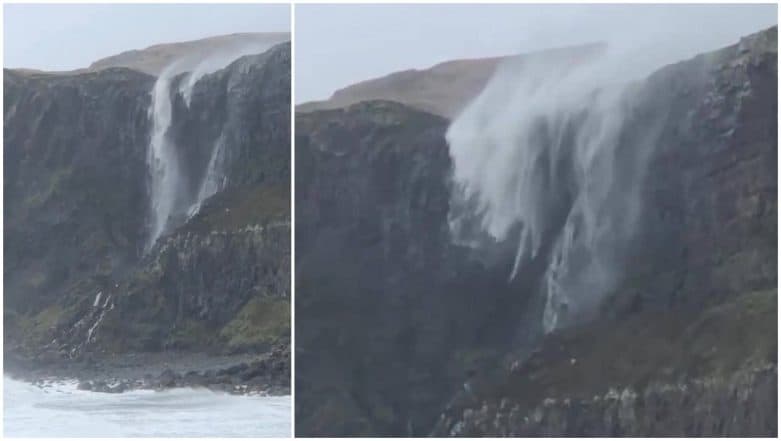 A reverse waterfall caused by storm Callum was captured of the camera in Scotland. The pressure caused by the wind was so severe that a water started flying upwards instead of downwards. The natural occurrence happened at Talisker beach on the Isle of Skye. Video of the reverse waterfall was recorded and shared on social media by a Facebook user Chris Martin on Friday.
Chris Martin posted the video on Facebook saying caption saying, "When a waterfall don't fall." Callum was expected at 70mph in coastal areas. The MeT department has announced rains in the south of Scotland. Storm Callum caused a number of landslides in west Scotland. World's Largest Man-Made Waterfall in China Comes Under Social Media Scrutiny (Watch Video)
After the grand response the video received, Chris took to Twitter explaining how he decided to explore the countryside in Scotland as his anniversary was coming up. Although storm Callum was coming up, Chris decided to tour the island when he spotted the waterfall. He simply shot the video and posted it on his Facebook after which it went viral.
Here is the video of the waterfall that went viral:
He said he has been receiving inundated calls, messages and notifications regarding the video. Chris in the post also said that the clip has been viewed millions of times and shared more than 30,000 times. This is the not the first time, strong winds blew waterfalls upwards. Mostly ahead of rains when strong winds blow, similar occurrences have been spotted at countrysides.