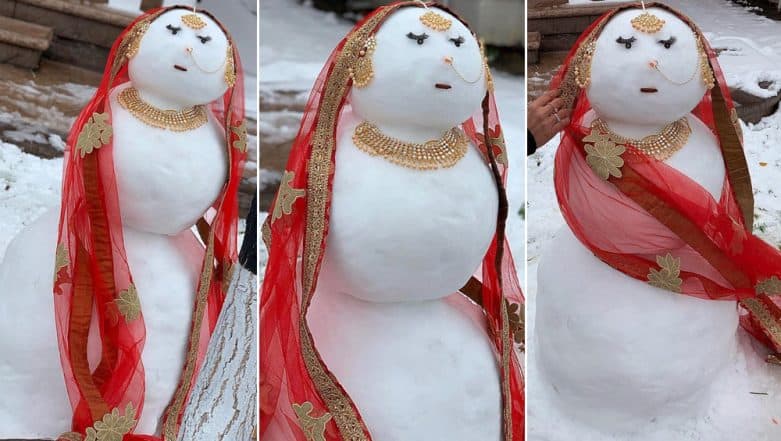 What do you imagine when we say the term snow? A lot of fun throwing snowballs at each other and snowman structures, isn't it? The snowman structure that is very popular and like everything else in the patriarchal society, even a lifeless structure made out of snow is also a male- Frosty. And no one ever thought of something similar. However, let's welcome our own new desi snow woman who is so cool that you'll freeze out admiring. Yes! Recently we had photos of a desi snow woman-bride that going viral and for all the right reasons. Make way for Farah, the desi snow woman in a bridal avatar. She is also called 'Farah the snow Jatti' or 'desi snow girl'. She is dressed in a bright red dupatta, golden ornaments including beautiful jhumkas and neck piece and her eyes flaunt long eyelashes. 'Don't Say It' Memes On Instagram and Twitter Are So Relatable That It Is Crazy!
The picture was shared by a Twitter user who goes by the handle name @isha_singh_ and she had captioned it with, "Forget Frosty the snowman we got Farah the snow Jatti up in here." In no time it received over 90 k love reacts and has been shared numerous times with lauding captions.
Take a look at the desi snowgirl from Brampton-
Forget Frosty the snowman we got Farah the snow Jatti up in here pic.twitter.com/p4d7VZWqQN

— Isha 🌹 (@isha__singh__) November 16, 2018
Here are some of the reactions that Farah received on Twitter-
Relatable.
All I can think is that somebody's mom is about to come out with a chappal for ruining that dupatta/taking that jewelry out in the snow

— Lena Afridi (@lpafridi) November 17, 2018
Let's make it a norm!
My kids and I love this. Now they are on the search to look for items that we could use to create a snow man like this.

— Karen Carrington (@karenc040) November 18, 2018
Pondering...
With how the times are these days, I can't say I blame her for being a little frigid.

— Shenorai (@Shenorai) November 18, 2018
Absolutely!
Frosty cancelled! Farah in!

— Kat Chen | 陈燕情 (@chenyanqing) November 17, 2018
Hugs!
And we have the same name 👯‍♀️ https://t.co/m0m1SrJsLW

— Farah Nasser (@FarahNasser) November 20, 2018
Sameee!
Day made. https://t.co/ki2i135dRr

— Roger Petersen (@rogerfpetersen) November 20, 2018
Collectively agree!
Winter weddings be like! https://t.co/JLvQb8d2E9

— Sneha 👸🏻 (@Sassy__Sneha) November 19, 2018
Kinda yeah?!
I just wanna know what kinda glue holding those lashes 😂 https://t.co/knxNgBFUxe

— Are you OK? (@pixie_purfect) November 19, 2018
She's a goddess!
Y is Farah the snow Jatti prettier than me https://t.co/XC2hPh8A1w

— 🎃Sof🎃 (@sofdelac) November 17, 2018
We were really done with the carrot-nosed snowman, and this was a much-needed update. What do you think about her? Let us know in the comment section below.