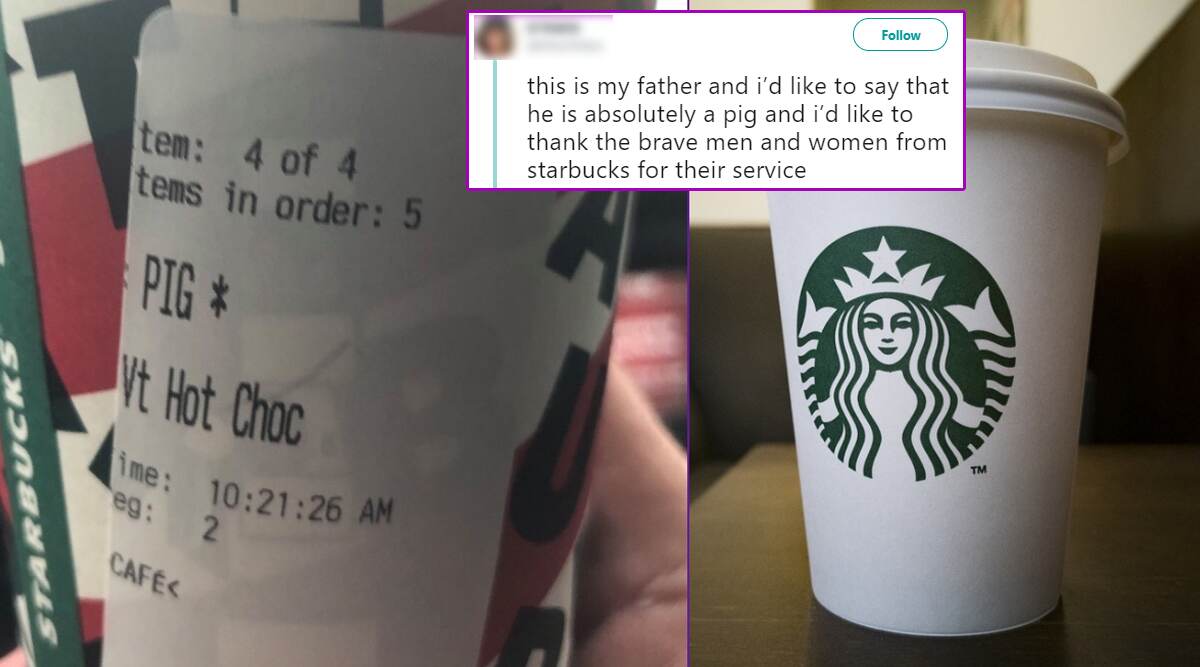 A Starbucks employee of an outlet in Glenpool, Oklahoma made it to the headlines yesterday after he wrote the word "PIG" on a police officer's coffee cup label. A Chief Officer from Kiefer police station, Johnny O'Mara had posted the picture on Facebook of his coffee cups and mentioned how utterly disrespected he felt with this. While the company apologised and even fired the concerned employee for his actions, the officer's daughter is making a buzz on Twitter after she tweeted that her father deserved the insult. She even thanked the brave employees at Starbucks for their service! The girl took to Twitter, to share the report of the officer getting cups with label "PIG" and in her comment wrote, she would like to thank them. The tweet has been going viral and the girl has revealed more details about her father's behaviour. Starbucks Cashier Prints 'ISIS' on Glass of Coffee Ordered by Muslim Men in Philadelphia.
The Kiefer police officer visited Starbucks on Thanksgiving day and ordered for five cups of coffee. But when he saw the bill, it irked him to see the word "PIG" written on it. He took to Facebook to complain about the incidence which was immediately taken notice by Starbucks. The company even issued a statement declaring that the concerned employee has been fired and they called the incident "absolutely unacceptable". But the twist in the tale or rather a drama unfolded on Twitter, after the officer's daughter tweeted that she was thankful to "the brave men and women from starbucks for their service". The tweet is since then going viral. After Printing 'ISIS' in Philadelphia, Starbucks Scrawled 'Hippo' on UK Customer's Cookies & Cream Frappuccino Cup.
Check The Daughter's Post About Her Officer Father:
this is my father and i'd like to say that he is absolutely a pig and i'd like to thank the brave men and women from starbucks for their service https://t.co/e7NhPMacHM

— o'mara (@MissOMara) November 30, 2019
People were indeed shocked that why would daughter support and say such things in public, but in the next tweet, she also mentioned that her father was blatantly, proudly racist and said some things to her which she can never ever repeat.
Check Her Next Tweet:
for the record, my father has 0 business being a police officer. he was blatantly, proudly racist when i was a kid. said things i would never repeat. he treats women like dogs, including his own daughter. oink oink 🐖

— o'mara (@MissOMara) November 30, 2019
Her tweet has since then gone viral with over 46,000 retweets and 2.5 lakh likes. A lot of users had shocked reactions but as she clarified, they said they stand with her. While she even mentioned that she hoped her father would see it, with the tweet going so viral, it did reach the parents! So this drama is only intensifying.
Check Daughter's Tweet About Her Father Knowing It:
update: he has seen it and had someone call my mom to "get that shit off twitter" lmao he is upset

— o'mara (@MissOMara) December 1, 2019
Clearly the father is upset with his daughter and the family issues are all out now in public. Meanwhile, netizens only seem to be interested in what happens next. A lot of them also showered her with support for standing up against him. Check some of their reactions.
Loving the Drama
Stories like this is why I signed up for this app. pic.twitter.com/qVQE6bhWY6

— Angel Seo (@AngelSeo4) December 1, 2019
She's a Queen
This queen is the hero we needed

— Nolan King (@nolanking90) December 1, 2019
The Father Right Now...
your dad googling "how do I delete somebody else's tweet" pic.twitter.com/skW8sADhAp

— Horse Girl Autumn (@jelenawoehr) December 1, 2019
Clearly the family issues are right out now in public. We do not know where this will head next. But Starbucks definitely cash on this publicity. The employee who wrote the offensive word was surely wrong on his part. Although, this is not the first time the company had made such remarks on customers. Back in September, one of its UK outlets scrawled "Hippo" on a customer's Cookies and Frappuccino cup.