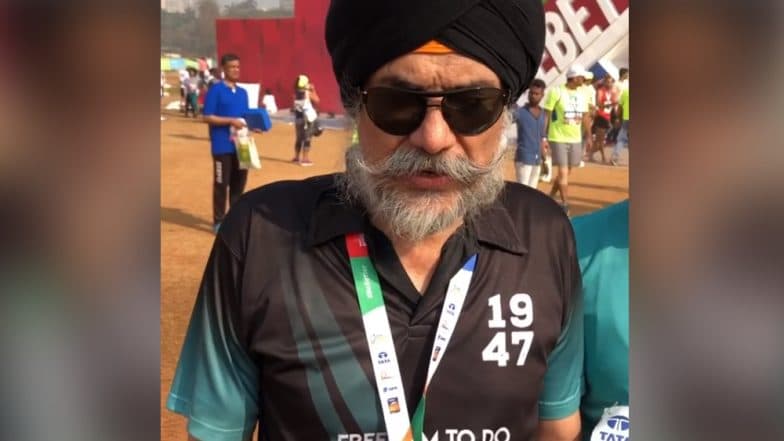 The most awaited finest distance runners have all hit the roads in Mumbai, participating at the 16th edition of Tata Mumbai Marathon on Sunday, January 20. According to the media report, more than 46,000 including some of the world's best runners ran on the busiest roads to complete the prestigious TMM 2019. The event was held under six categories—marathon, half marathon, open 10K run, dream run, senior citizens' run and champions with disabilities. While the winners from the above groups have been announced, there was this one participant whose eternal spirit impressed everyone. It was Amarjeet Singh Chawla, who finally completed his 101st race today. Cosmas Lagat of Kenya Wins in Elite Men's Category in Mumbai Marathon 2019. 
The 63-year-old Chawla lost his eyesight at the age of 40 and ran his first marathon in 2004. At the time, he was 48-years-old and participated in 7 km dream run. It was the legendary former Indian cricketer Kapil Dev, who escorted him, which encouraged him a lot to continue the sport. Chawla hails from Malad, a suburb located in North Mumbai. Chawla's undying spirit has led him to appear in several media outlets in the past years, and yet again he is headlined for his feat of completing the Tata Mumbai Marathon on January 20.
In the above video, which is shared by the Tata Mumbai Marathon's official Instagram handle, Chawla promises to achieve his 151st marathon with TMM is the coming two or three years. So far, Chawla had run in 100 half marathons (excluding this year's TMM), 60, 10 km marathon and four ultra-marathons organised by various agency across the nation. He thanked his escort Mr Rahul for accompanying him in various similar marathons and his family, whose never-ending support has made led him to follow his passion. His eyes firmly fixed for the upcoming marathons.