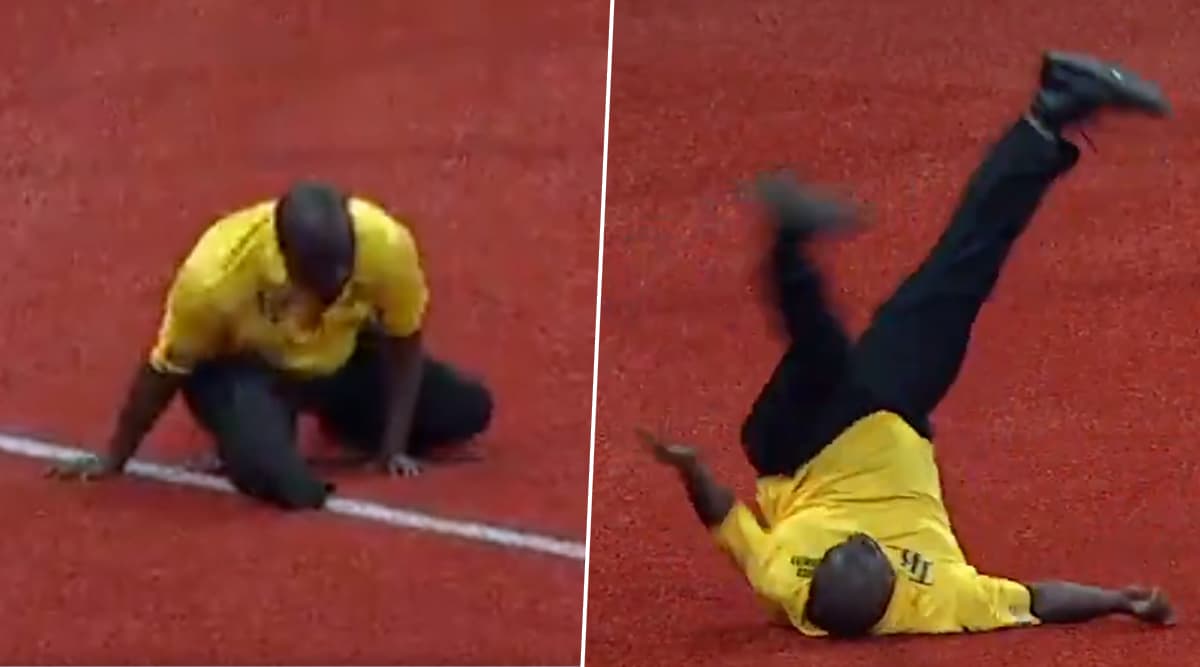 The viewers of American League Division Series between Houston Astros and Tampa Bay Rays were in for a treat. The Baseball Game 4 ALDS battle saw a security guard break into a dance routine at the Tropicana Field. The security guard did a cartwheel, a split, front flip and an amazing spin on the field which have left everyone amazed. Video of this guard's dance has left people in awe and they want to see more of such routines on the game field. But this video has taken people back to the time when he performed a dance-off with the mascot on field in 2014. Anand Mahindra Shares Funny Viral Video of Boy Dancing on Anti-theft Bike Alarm and It Is Undoubtedly the Best Thing You'll See Today!
In Tuesday's game, Tampa Bay Rays secured a great victory over Houston Astros. They won 4-1 on Tuesday night in Game 4. Now it is going to be a tough fight for Astros in Game 5. However, as interesting as the game the security guard proved to be a great source of entertainment. People are totally in love with him. The video is going viral with over a lakh of views in a day. Man Dances to Iconic Doordarshan News Tune in Viral Tiktok Video, Internet Impressed! (Watch).
Watch The Viral Video of Dancing Security Guard:
This security guard absolutely crushed it DO NOT COME AT HIM 🕺🕺 pic.twitter.com/rVdos3Y80u

— FOX Sports: MLB (@MLBONFOX) October 9, 2019
Favourite Person
who is this security guard breaking it down after the commercial break? he is my favourite person rn😂😂😂 @RaysBaseball

— gina (@ginaako59) October 9, 2019
Falling in Love
I'm in love with the wess security guard at the Astro vs Rays game 🕺🏻💕

— Mrs. Wong (@Bumblebree28) October 9, 2019
Wedding Inspo For Some
How I plan on walking down the aisle at ur wedding @meganeryder https://t.co/RADaFV1cbx

— Haley (@haycmax) October 9, 2019
Make The Most of It
The security guard didn't know if this would be the last @RaysBaseball home game of the season. So he made the most of it. 🕺🏿⚾️ pic.twitter.com/mZXtFsXk3I

— Jeff Eisenband (@JeffEisenband) October 9, 2019
An old video of his dance from the field was also shared online by some netizens back. Back in 2014, the same security guard had a dance-off with Orbit of the Astros. He gave a tough competition even back then.
Here's The Old Video of Security Guard's Dancing With Mascot:
Security guard at @astros game has incredible dance moves: http://t.co/eFRfMYZWaW pic.twitter.com/UtNQvBauZU

— Cut4 (@Cut4) June 28, 2014
Clearly, the security guard excels in something more than just guarding. His way of dancing on the field has charmed people so much. And we are sure for the final match, all eyes will also be on the guard as much as the game.