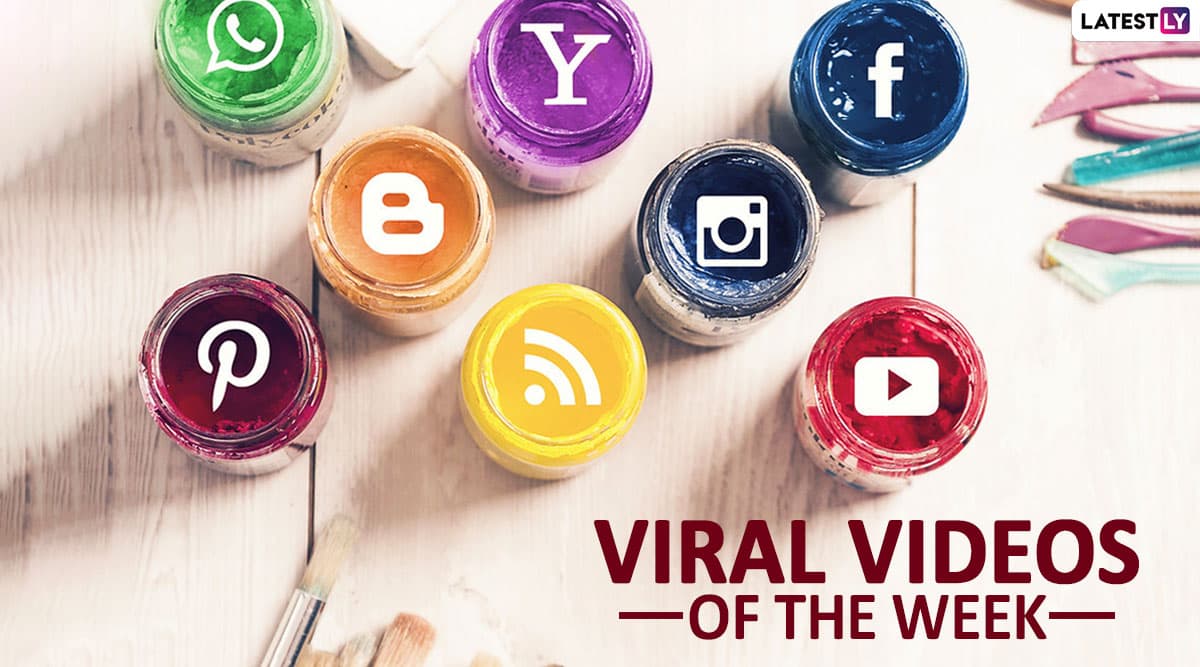 You made it to Saturday! Leave everything, and tap your back, you deserve some appreciation. It was not an easy week, but you still managed to be active. At least, on social media! Thanks to you, we have got many videos and memes, surfaced on Twitter, Facebook, Instagram and other social media sites. We are never short of content! Now that you, as an avid social media user, got your fair share of appreciation, it is time for the viral videos of the week. Those in case, living under the rock, this list will give you an idea of what people on the internet was so enthralled. And others can simply enjoy as throwback moments. From the cute little yellow-green puppy 'Hulk' to TikTok guys coating their testicles in soy sauce, participating in the weird challenge, watch the seven clips that broke the internet.
1. Female Orangutan Supporting Breastfeeding Mom:
This was the rare and most beautiful moment when a female orangutan was captured bonding with a breastfeeding mom. How adorable! The magical moment occurred at Schoenbrunn Zoo in Vienna, Austria, showed as if the giant ape was trying to protect the mother and her baby.
2. Yellow Green Puppy, Hulk:
A North Carolina family was surprised to see their German shepherd giving birth to a yellow-green puppy. The Stamey family fondly named the pup, Hulk. The video shows the mother who gave birth to eight puppies—all of who are black and white, except Hulk, being the odd and god, so adorable!
3. Orange Lights Flash Up in Ohio's Sky:
Mysterious red and orange lights, flashed up in the night sky at Ohio. A man named Tim Walker and daughter, Carolyn Walker, were out of their home to take out the trash. That was the moment when the lights flashed. It was captured on their doorbell camera.
4. Taylor, the Dog Rescues Koalas, Sniffing Their Poop:
4-year-old Taylor has rescued eight koalas since September! https://t.co/oQ0URFbwQ4 pic.twitter.com/GKHUTkV3WL

— ABC News (@ABC) January 17, 2020
While firefighters are working round the clock, dogs too are trained for the rescue job. A pooch named, Taylor rescued koalas from the Australia wildfires, by sniffing their poops.
5. Dog Sings Ranu Mondal's 'Teri Meri Kahani':
It appears that the internet sensation, Ranu Mondal has great followers in the animal kingdom too. This video showed a dog joining his human as he practises Mondal's song, 'Teri Meri Kahani' from Happy Hardy and Heer, on harmonium. You can't miss this!
6. Cereal Challenge on TikTok:
Teens are the breakfast food from each other's mouth. The TikTokers are basically putting cereals and milk on their partner's mouth and eating it with a spoon. As much gross it sounds, the cereal challenge has taken over the internet, insanely.
7. Guys Coat Their Testicles in Soy Sauce:
Boys on TikTok were coating their testicles in soy sauce, and apparently, they can taste it. The viral videos came after a girl re-shared a 2013 Daily Mail article claiming 'testicles have taste buds.'
These are the seven videos that went viral this insanely. Social media users have got no chill, especially in terms of making weird challenges. No matter how disgusting it sounds, trends like cereal challenge and men coating their balls in soy sauce, had seen a spike in the number of views on the internet.