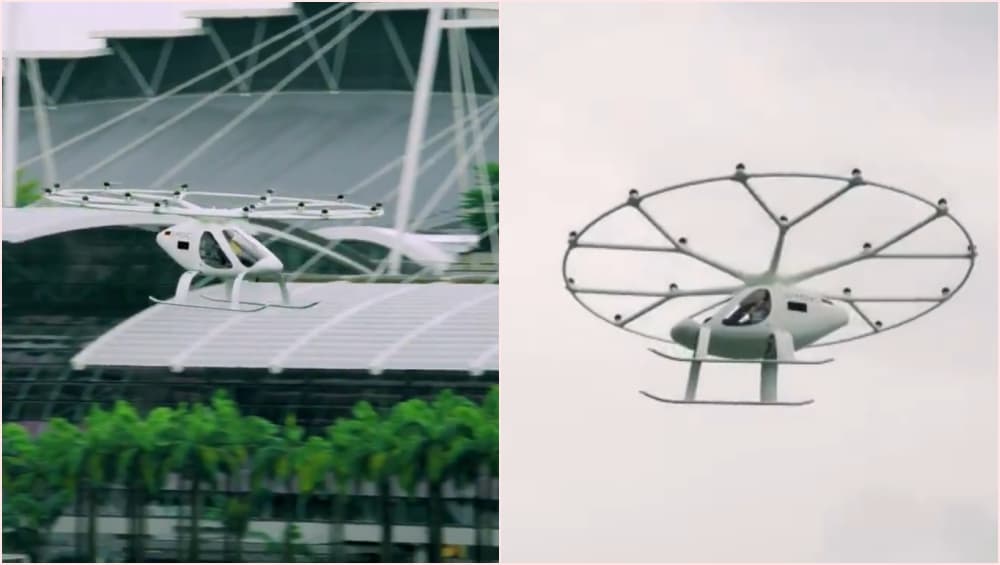 Singaporeans got the first glimpse of a flying taxi, Volocopter 2X, of what designers hope could become a way to get around urban centres far above congested roads. The air taxi's maiden manned flight took above Singapore's Marina Bay, and it lasts for about two minutes test run. The vehicle is however designed to eventually fly on its own with passengers simply hopping abroad and punching their destination, allowing the autonomous flight software to carry them away. Volocopter is set to grace the sky by 2025 officially and will become the world's first flying taxi. All the Singapore-based people and travel enthusiasts surely cannot keep their calm as the video of Volocopter's test drive go viral on social media. Intel Unveils Volocopter: A Flying Taxi Powered by Batteries. 
According to media reports, the air taxi's maker, German aviation start-up Volocopter has previously conducted the public demonstration flights in Germany, Dubai and Finland, before the test drive at Marina Bay. The test run was performed on October 22, 2019. Florian Reuter, CEO of Volocopter was quoted in media reports as saying, "The flight today in Singapore was the most advanced Volocopter flight yet and the piloted flight was as stable as ever. At the same time, we are showcasing a prototype of our full-scale VoloPort Infrastructure, allowing for a realistic demonstration of air taxi boarding and maintenance services. Never before have people been this close to experiencing what Urban Air Mobility in the city of tomorrow will feel like."
Watch the Video of Volocopter 2X:
Behold the #Volocopter2X flying over #MarinaBay! Its the first time ever, an #eVTOL #airtaxi flew piloted through a city center.

Find out all details here: https://t.co/vMl1W3dQgm#mobility #VoloFliesSingapore #eVTOL #UAM #future #technology #innovation pic.twitter.com/rFrOuDiWmH

— Volocopter (@volocopter) October 23, 2019
The company also said that this the last trial of a demanding test series to verify the ability of the air taxis to fly over the area. However, experts are concern about the potential risk that the vehicle could develop including the cost and congestion in the skies. Meanwhile, Aircraft giant Boeing and German sports-car maker Porsche are reportedly working together to come up with self-driving air taxis. Uber is also currently in the making of what it calls electric vertical take-off and landing (eVOTL) flying taxis.