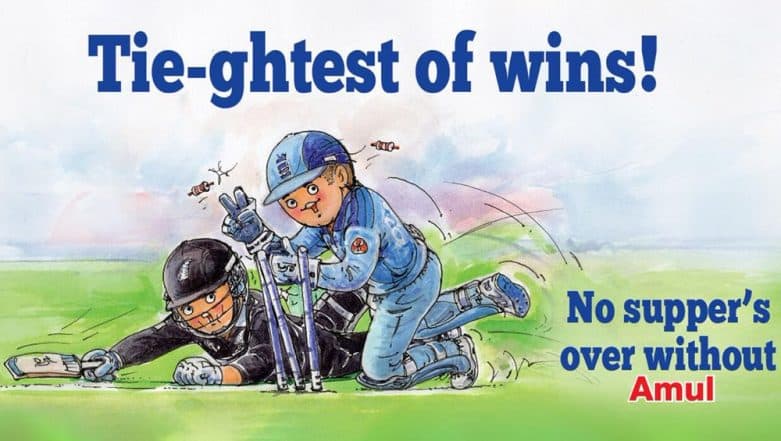 England's victory at ICC Cricket World Cup 2019, has created abuzz on social media. People across the world are congratulating the cricket team for their amazing performance and first cricket world cup win. Apart from netizens and cricket fans alike, Indian dairy brand, Amul too joined in their celebrations, with an utterly delicious topical ad. The calligraphy features, New Zealand opener Martin Guptill's run-out in the super over that restricted the team to 15, thus helping England to win the World Cup 2019 title on the basis of more boundaries in the final. A happy face of England's wicketkeeper, Jos Buttler is also awesomely created in the topical add. How And Why England Won ICC Cricket World Cup 2019 Final Against New Zealand Despite Match and Super Over Being A Tie? Here's What Rules Say. 
Yesterday's cricket match had every bit of drama and the fever is here to stay for a longer period. The entire game was nail-biting. However, Guptill's run-out gave a moment of brilliance in the field for Indian cricket fans. Soon, they began to trend #karma hashtag on Twitter, as it replicated the exact very moment when Mahendra Singh Dhoni was run-out by the New Zealanders during the Semi-Final clash. Hence, it was obvious for Amul to come out with the calligraphy as Morgan lifted the shining CWC 2019 trophy. Jimmy Neesham Consoled by Fans for His Emotional 'Kids Don't Take Up Sport' Tweet Following New Zealand's Heart-Breaking Defeat in CWC 2019 Final.
Amul's Topic Ad
#Amul Topical: England win a thrilling final in #CWC19! pic.twitter.com/52UqeW4M7p

— Amul.coop (@Amul_Coop) July 15, 2019
The game was gripping throughout. But in the final over, it had more twist and turns than any thriller movies could ever give. In the end, England triumphed as it hit a total of 26 boundaries, fours and sixes scored across both the 50 overs and the Super Over compared with New Zealand's 17, a decision, however, left Kiwi fans and some cricket experts unhappy.