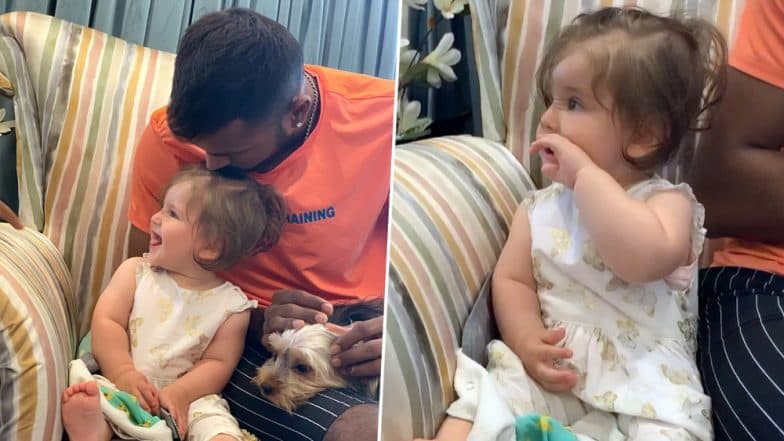 Hardik Pandya is having holidays at present due to his exclusion from India's tour of West Indies 2019 and it looks like the Indian all-rounder is trying all ways to enjoy his time off the field. On Sunday, Pandya donned the role of a babysitter while taking care of cricket commentator Jatin Sapru's daughter. It looks like Pandya is the new babysitter in town after Rishabh Pant. The Indian wicketkeeper had also spent time with Australia Test Tim Paine's children earlier this year, donning the role of perfect babysitter. Now, looks like Hardik has also followed Pant's path. Hardik and Krunal Pandya Buy New Orange Lamborghini Car! View Pics & Video of Their Hot Toy. 
In an Instagram post, Pandya shared a post while sitting with Sapru's little cutie. Pandya and the little girl were seen clapping in the video. 'Babysitting Sunday for Jatin Sapru', he wrote along with the post. Have a look at the post below.
New babysitter in town!
View this post on Instagram
There were many sweet comments on the video. Babysitting has become quite a popular trend among Indian cricket after the incident of Rishabh Pant and Tim Paine during India's tour of Australia in early 2019. Paine had sledged Pant during the Test asking him to babysit his children. Later, Pant really met Paine's wife and babysat his children. Hardik and Krunal Pandya Sing 'Why This Kolaveri Di' Song; This Video Will Make You a Fan of Pandya Brothers!
Meanwhile, Pandya is off the national duty at present as he was given total rest during India's tour of West Indies 2019. Pandya reportedly bought a Lamborghini Huracan EVO supercar worth Rs 3.73 crore recently. He was seen driving the car with his brother Krunal Pandya in Mumbai. The Pandya brothers recently also posted a video of singing famous Bollywood song 'Why This Kolaveri Di' together.