Star Indian cricketer Shikhar Dhawan's son, Zoravar turned five on Saturday and his birthday party was one of its kind. Unlike other kids of his age who love to have a superhero or cartoon-themed birthday party, Zoravar had a reptile-themed birthday celebration. And by reptiles, we mean real, very real reptiles at the party. Zoravar's mother Ayesha Mukherjee thought of throwing this hatke party for her son and his friends. The mother of three posted pics and videos that showed Zoravar chilling with a python hung around his neck, a frog resting on his head and a skink trying to have a nice little chat with the birthday boy! Sania Mirza Posts Son Izhaan's Smiling Picture on Instagram: See Izhaan Mirza Malik Being a Cutie Patootie.
"What an amazing reptile party for zoraver!! Thanks to his friends who came and helped us in celebrating this awesome day!!! #awesomereptiles #weloveanimals #snakes #lizards #scorpion #crocodiles #frogs @shikhardofficial @aliyah_dhawan #rheadhawan #zoraverdhawan #turtles 🐍 🦎 🐢🦂," writes Ayesha on her Instagram handle. 'Aye MS Dhoni, Kaisan Ba?' This Cute Conversation Between Dhoni and Daughter Ziva Will Melt Your Hearts! (Watch Video).
It may sound dangerous or even ridiculous to have a reptile-themed birthday party for a five-year-old. But you got to look at those amazing pictures and videos posted by the cricketer wife because the birthday party turned into a fun learning experience for all the kids. There are trained animal handlers and experts who can be seen in the videos teaching Zoravar, and his friends understand more about the reptiles.
Keep Swiping Right to See Zoravar and Co. Have Best Time With Deadly Pythons!
Zoravar With His New Froggie Friend, Boogie!
Zoravar's half-sisters, Rhea and Aliyah are also seen having fun at the birthday party. They also have snakes coiling around their necks. The videos will send a little shock wave through your spine, but do not worry, and it was done under the observation of experts. Not only there were real frogs, snakes, skinks, lizards, turtles for the company, but even Zoravar's cake was also customised to go well with the birthday theme.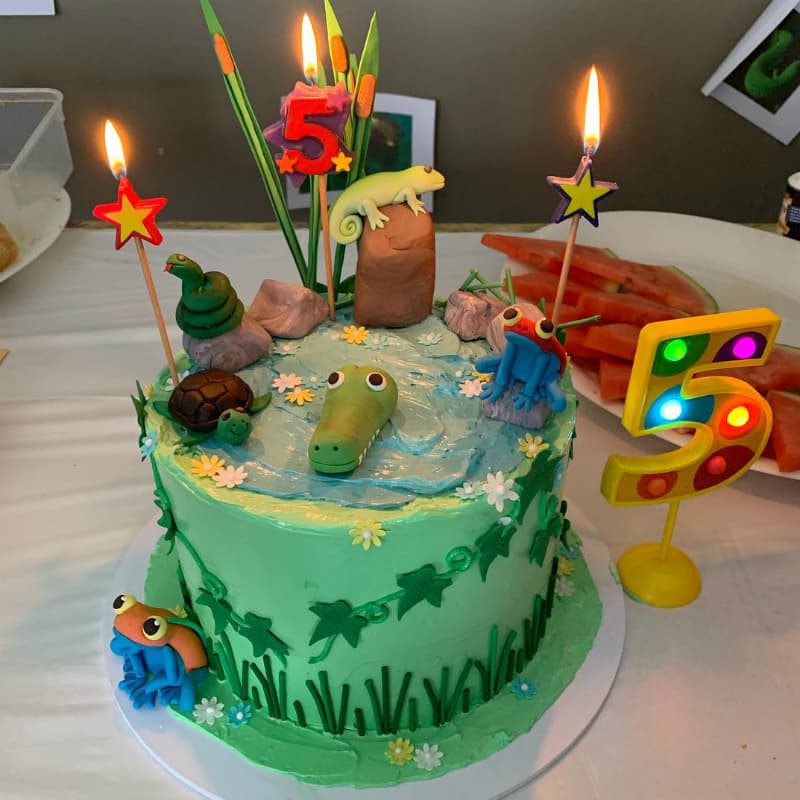 Shikhar Dhawan married Ayesha in 2012. Ayesha is a Melbourne-based amateur boxer who has two daughters Rhea and Aliyah from her previous marriage. Zoravar was born in 2014. We have seen the boy win hearts with his cute naughty antics during cricket matches where Shikhar Dhawan is playing. Surprisingly, papa Dhawan was missing from Zoravar's fifth birthday celebrations, and the reason could be his comeback into the Test side as India is currently Down Under to play four-match Test series against Australia.