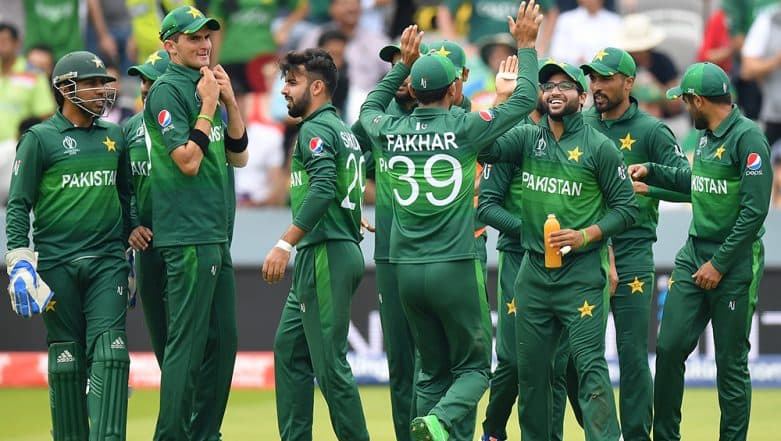 Pakistan defeated New Zealand in the match no 33 of ICC Cricket World Cup (CWC), 2019. This was a must-win game for Pakistan to stay alive in this tournament. With this victory, Pak keeps their semi-final hopes alive by moving onto the sixth position on the point table with 7 points. They have two matches left against Afghanistan and Bangladesh in World Cup 2019 and if they went onto win both games then they could make it to the semi-final. Pakistan batsman Babar Azam scored his first World Cup century and helped PAK defeat Kiwis by 6 wickets. Let us see how Twitter lauds on Pak victory over Black Caps. Pakistan vs New Zealand Highlights of ICC World Cup 2019 Match: Babar Azam, Haris Sohail Help PAK Beat NZ.
New Zealand, which was unbeaten so far in the tournament, never looked to be in a dominant position against Pakistan -- which has been struggling for much of the tournament. The ever-dangerous Martin Guptill was send packing by Mohammad Amir in the second over of the game. Finding the New Zealand side bled, it was the 19-year-old Shahid Afridi who furthered the wound, ravaging through the entire middle order. James Neesham and Colin de Grandhomme, however, resurrected the Kiwi innings with a 130-odd run partnership. NZ had put up a total of 238 -- but it felt short for its bowlers to defend. Babar Azam Becomes First Pakistan Batsman to Score Century in CWC 2019, Helps PAK Beat New Zealand.
A Fan Happy For Babar Azam!
happy for Babar Azam. bas log ab anti-national na bol de baki class player hai banda #NZvsPAK pic.twitter.com/On68nbq7WC

— ⚽️ (@anmolpal1999) June 26, 2019
Finally, Pakistan is back on track!!
Finally we are on line ! #TeamPakistan #NZvsPAK pic.twitter.com/TcMkaq5fFY

— ali ifti (@aashir719) June 26, 2019
Remember the face, Babar Azam!!
REMEMBER THIS FACE!!!

Will See You Guys in Finals.#PakvNZ | #NZvsPAK pic.twitter.com/vkiU5MiD9L

— Talish Tariq (@talishtariq007) June 26, 2019
Pak fans will now pray for India's victory Over England!!
This will be do or die if india beats england.... #NZvsPAK #PAKvNZ ...Basically all pakis will be praying for India's victory vs england pic.twitter.com/lHaktAyo1X

— Saurabh Bohra (@Litti_choka) June 26, 2019
Sarfaraz Ahmed Hits the Winning Shot!
Pakistan team for you. 🇵🇰❤️#CW2019 #NZvsPakpic.twitter.com/MZ6hnMpOHF

— NotYourOrdinaryMixedGirl (@keffatima) June 26, 2019
Pak is indeed unpredictable!!
If you are unbeaten then we are unpredictable 🇵🇰#NZvsPAK #PakistanZindabad pic.twitter.com/ESyQy30DVo

— Hassan Ejaz Jajja (@EjazJajja) June 26, 2019
Kiwis Current Situation!!
#NzVsPak , NZ current Situation, #WC2019 , @Premgiamaren @cinemapayyan 🏏🏏 1st defeat NZ, 😥 pic.twitter.com/MJRHx9wbqz

— Banusankar Ravi (@RBS_2V11) June 26, 2019
The Pakistani side won the match with six wickets and five balls to spare. Babar Azam excelled with the bat scoring his first century of the tournament. Credit also goes to Haris Sohail, who remained unbeaten for 68 off 76 balls.