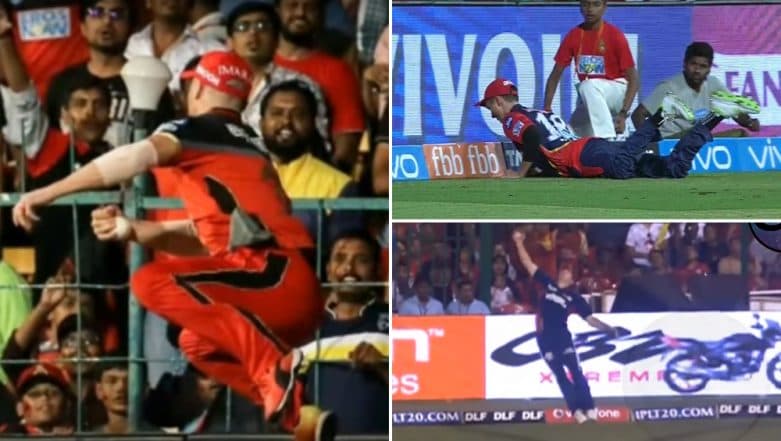 Indian Premier League (IPL) is known for delivering its viewers with riveting entertainment every year. Each season of IPL has a different story associated with it. This mega event of T20 cricket features talented players from around the globe. Not just batting and bowling, but fielding is class apart as well in the IPL. We also get a chance to witness some of the fantastic catches in this tournament. Meanwhile, as we wait for the IPL 2019 or the 12th edition of Indian Premier League to begin, let us go through the unbelievable catches in VIVO IPL till now.  IPL 2019 Anthem 'Game Banayega Name' Video Out: Ms Dhoni to Rohit Sharma and Virat Kohli, Stars Shine Bright in This VIVO Indian Premier League 12 Theme Song
We all know that catches win matches. The fielding of every team plays a vital role in the victory. An excellent fielder is a gem for the team because he saves runs for his side on the field. Even the bowlers are supported and motivated by a good fielding effort.
Unbelievable catches from VIVO IPL
1. Trent Boult one-handed catch on boundary rope stuns Virat Kohli
2. AB de Villiers becomes superman to dismiss Sunrisers Hyderabad batsman Alex Hales
3. Watch Dwayne Bravo taking a blinder on his own bowling against Sunrisers Hyderabad in Qualifier 1.
4. Yusuf Pathan jumps up in the air at short third-man to dismiss RCB skipper Virat Kohli
5. Hardik Pandya hat-trick of catches against Chennai Super Kings
6. Watch great fielders like Virat Kohli, Corey Anderson, Ben Stokes and many others taking unbelievable catches
In upcoming season 12 of VIVO IPL, we can expect some more amazing catches. With players taking good care of fitness these days, the standard of fielding in International Cricket has risen. Steven Smith, Suresh Raina, Faf Du Plessis and Ravindra Jadeja are some of the players to watch out for in the coming IPL when it comes to fielding. Stay tuned to LatestLY for more updates and news from VIVO IPL 2019.