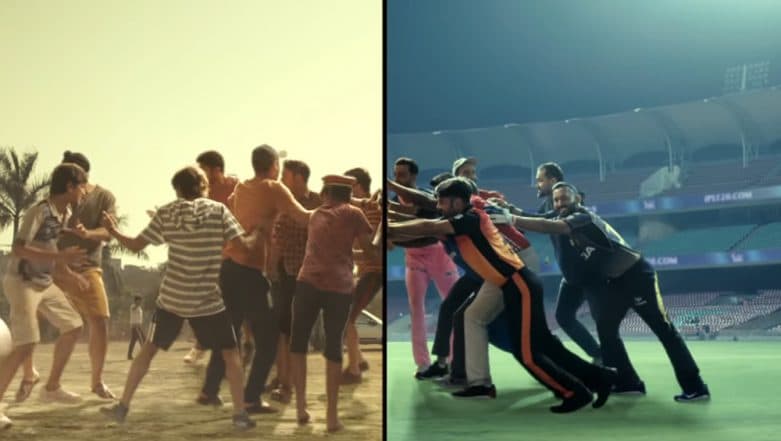 We all know that millions of people around the world watch the Indian Premier League (IPL). It is one of the biggest sports event globally featuring talented cricketers from around the world. This year VIVO IPL 2019 or the 12th edition of Indian Premier League is all set to begin from March 23, 2019, where the defending champion Chennai Super Kings will take on Royal Challengers Bengaluru at M Chinnaswamy Stadium. Star Sports, the host broadcaster has released the official anthem of VIVO IPL 2019 - 'Game Banayega Name.' Let us see take a look at this season's IPL theme song video. Mumbai Indians Squad in IPL 2019: Team Profile, Schedule of MI in VIVO Indian Premier League 12.
The newly launched ad campaign by Start Sports and BCCI focuses on #Game BanayegaName which clearly states that VIVO IPL is a platform where one's talent precedes one's name. The video opens up with split screen battle between youth in raw form on one side and the other side has scores of established IPL stars. Both the parties are battling to grab screen space, which ends with renowned players acknowledging the youth talent and inviting them to show their game in this platform. Click on the video below to view the newly launched official anthem by Star Sports for Vivo IPL 2019.
Vivo IPL 2019: Game Banayega Name
For the first time, where an established representative from all eight teams have joined in together to appreciate and support the young talent. This ad features stars like Virat Kohli, MS Dhoni, Rohit Sharma, R Ashwin, Jaydev Unadkat, Dinesh Karthik, Rishabh Pant and Afghanistan star all-rounder, Rashid Khan.
The format of Indian Premier League indeed gives a platform to young stars from the nation to showcase their talent. Players like Hardik Pandya, Kuldeep Yadav, Yuzvendra Chahal, Ravindra Jadeja to name a few have started their cricketing career from IPL and have flourished well in International cricket. This TVC of Game Banayega Name is released simultaneously in seven different languages across all platforms, radio and TV.