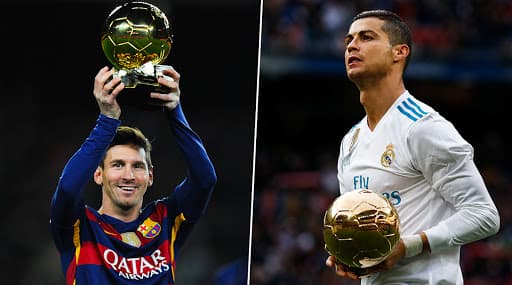 Ballon d'Or 2019 ceremony will be held on December 2, 2019 where the best player of the year will be awarded the trophy. This award is based on votes by various journalists along with coaches and captains of national football teams. The Ballon d'Or award was started in 1956 where journalists could only vote for European players playing in Europe, which meant the likes of Diego Maradona, Pele were ineligible for this award as they were non-European's. But a change in rule in 1995 and then again in 2007 meant any player in the world is eligible to win this award. With the voting for 2019 Ballon d'Or already closed, we take a look at the clubs with the most number of Ballon d'Or winners. Ballon d'Or 2019 Date: Can Messi Win Ballon d'Or 2019? Who Has the Most Ballon d'Or? How Ballon d'Or Is Voted? And Other FAQs Related to Annual Football Award.
The first Ballon d'Or was awarded in 1956 and was won by England legend Stanley Matthews while he was at Blackpool. Luka Modric won the award last season thus ending the ten-year dominance of Lionel Messi and Cristiano Ronaldo. The Croatian has not been shortlisted for the award in 2019, It is the first time since the award's inception in 1956 that a previous winner has not been nominated the following year. Here is the list of the clubs with the most Ballon d'Or winners. Kylian Mbappe Says Lionel Messi Is Favourite to Win Ballon d'Or 2019.
Clubs with the most Ballon d'Or winners
FC Barcelona – 11
Barcelona are one of the most successful European clubs and have players who have won the Ballo d'Or on 11 occasions. Spaniard Luis Enrique was the first player from the Catalan club to win the award in 1960, post which the legendary Johan Cryuff won it for two consecutive years in 1973 and 1974. They had to wait for 20 years before Bulgarian Hristo Stoichkov won it in 1994 and Rivaldo bagged the award four years later in 1998. Brazilian Ronaldinho won it in 2005 since then Argentine Leo Messi has won it five times so far.
Real Madrid – 11
Real Madrid rank along with their Spanish rivals in terms of players who have won the most Ballon d'Or awards. The club won it the first time when club legend Alfredo di Stefano won the award in 1957 and then went on to win it again in 1959, while Raymond Kopa picked the award in 1958. They had to wait for another 41 years before former Barcelona star-man Luis Figo won it in 2000 followed by Brazilian Ronaldo in 2002 and Fabio Cannavaro in 2006. Post this Cristiano Ronaldo has dominated the award list winning it on four occasions for them.
Juventus – 8
Juventus are arguably the biggest club in Italy and their players have won the prestigious awards on eight occasions. Italian Omar Sivori won it first in 1961 followed by Paulo Rossi who won it 21 years later. French legend Michel Platini won it for three consecutive years between 1983 and 1985 while Roberto Baggio bagged it in 1993. Zinedine Zidane won the award in 1998 and the last player to win Ballon d'Or was Paul Nedved in 2003.
AC Milan – 8
The Italian club who can historically go toe-to-toe with Juventus is probably AC Milan and they match them in the number of Ballon d'Or winners as well. The first player to win the player was Gianni Rivera in 1969, while Dutchman Rudd Gullitn was next to win it 18-years later in 1987. Dutch legend Marco van Basten won it in 1988, 1989 and 1992. George Weah secured the award three years later in 1995. Ukranian striker Andriy Shevchenko won it in 2004 while the last Milan player to win this award was Brazilian midfielder Kaka in 2008.
Bayern Munich – 5
German giants Bayern Munich are fifth in the list as their players have won the award on five occasions. German legend Gerd Muller it in 1970 followed by Franz Beckenbauer who won the award twice in 1972 and 1976. The last Bayern player to win the award was Karl-Heinz Rummenigge, as the striker won it twice in 1980 and 1981.
The 2019 Ballon d'Or will be the 64th annual ceremony of the Ballon d'Or, and the ceremony is to be held on December 2, 2019 (Monday). Many big names are nominated for this award including the regulars like Cristiano Ronaldo, Lionel Messi, Robert Lewandowski, Antoine Griezmann as well as some youngsters such as Joao Felix, Trent Alexander Arnold, Frenkie de Jong and Mattijs de Light.