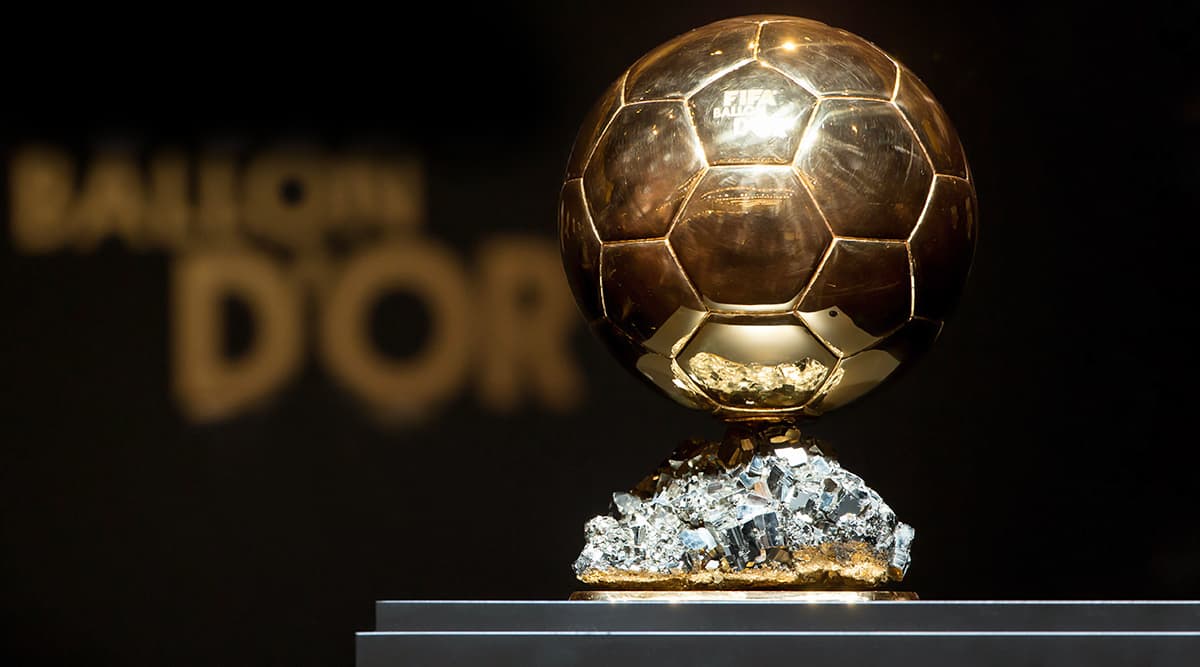 In some hours from now, the world will stand up to applaud football's best player of this year. In a glittering ceremony at the Théâtre du Châtelet in Paris, the 2019 Ballon d'Or will be awarded to both men and women's best player of the year. Lionel Messi and Cristiano Ronaldo -- both chasing their sixth Golden Ball, are once again the favourites, while Liverpool's defensive rock Virgil van Dijk is tipped to become the first defender in 13 years to win the most coveted individual award in world football. Less than half a day remains for the world to know, who will be crowned its best footballer of the year. Legends from different eras, countries and time make their predictions about their favourite player and their winner for the 2019 Ballon d'Or award ahead of the big ceremony. Ballon d'Or 2019 Date and Time in India: Live Telecast and Online Stream With Full Schedule Timing in IST, Nominees and Venue of Awards Ceremony.
Luka Modric is the reigning Ballon d'Or winner but has been shockingly left out this year's final 30-man shortlist, which is led by Messi, Ronaldo, Van Dijk and Eden Hazard. World Cup winner and youth sensation Kylian Mbappe also has an outside chance to become the youngest ever to lift the prestigious trophy. Football greats, like Didier Drogba, Iker Casillas, Ryan Giggs Arsene Wenger, Jurgen Klopp and other legends make their prediction ahead of the big night. Ballon d'Or 2019 Winner Name Predictions: Lionel Messi, Cristiano Ronaldo or Virgil van Dijk, Who Has More Chances of Winning The Award in Paris?
Pep Guardiola
Considered to be one of the greatest managers of all-time and the Man responsible for revolutionising 'Johan Cruyff School of Tiki-Taka Football' and bringing a change in how the game was played across the world, Pep Guardiola has coached Barcelona, Bayern Munich and is currently the manager of English Premier League champions Manchester City.
Under him, Barcelona won a record 14 titles in four years with Messi also winning three of his five Ballon d'Or trophies in the same period. He has backed City talisman Kevin de Bruyne to win the prestigious individual award in the future, but for now, Lionel Messi is his ideal candidate for the 2019 Ballon d'Or award. "I'm sure they'll give the Ballon d'Or to Messi at first, then they'll check VAR and give it to Van Dijk," he said.
Jurgen Klopp
Liverpool have transitioned from a club lost in history to one of the best in Europe under Jurgen Klopp. Klopp's Liverpool are the European champions and that's why he wouldn't look beyond his club for the winner of 2019 Ballon d'Or. "If you give the Ballon d'Or to the best player of this generation, then you can give it always to Lionel Messi, that's how it is."But if you give it to the best player of last season, then it was Virgil van Dijk. So I don't know exactly how it will work, but that's how I see it. If it's for the best player of all, then it's Lionel. The best player of last season, it's Virgil."
Arsene Wenger
One of the greatest English Premier League managers and a footballing genius, Arsene Wenger picked Sadio Mane over the more fancied trio of Messi, Ronaldo and Van Dijk. Sadio Mane was an outstanding character [in the 2018-19 season]," Wenger had said during his stint as a football pundit with BeIN Sports. "I would say – because he is a fighter… and efficient. He is not scared of anybody. At the moment, he deserves huge credit," he further added.
Samuel Eto'o
He remains the closest any African player have come since current Liberian President George Weah triumphed it in 1995. Eto'o, a former Barcelona and Inter Milan player, finished fourth in 2005 behind winner Ronaldinho and English duo Frank Lampard and Steven Gerrard. The famed striker ranted about the lack of respect towards African players in the Ballon d'Or awards. "African players are not respected" and are "not always properly appreciated," said the three-time Champions League winner.
As many as five Africans, including Liverpool pair Sadio Mane and Mohamed Salah, Napoli's Kalidou Koulibaly, Manchester City's Riyad Mahrez and Arsenal forward Pierre-Emerick Aubameyang, have been named in the 30-man shortlist for Ballon d'Or 2019 awards. But Eto'o said he would be pleased if Messi wins.
Maurizio Sarri
The former Chelsea manager and current Juventus boss hoped his club talisman Cristiano Ronaldo wins his sixth Ballon d'Or title. "I hope that Cristiano wins the Ballon d'Or, de Ligt the Kopa Trophy and that Dybala will one day be a future Ballon d'Or contender," Sarri, who won the Europa League title with Chelsea last season. Ronaldo has not won any single global football award this season and is in risk of returning empty-handed from Paris.
Didier Drogba
Former Chelsea striker and club legend Didier Drogba picked Sadio Mane to lift the coveted trophy this season. "For Africa, the Champions League, and the championship. What he (Sadio Mane) does in the Premier League, very few players are able to do it," the former Chelsea forward told Paris Match. It is possible (he could emulate George Weah) but it would have been possible before," said Drogba. It would be really nice (if) Sadio or even Mohamed Salah continue to raise their level of play to hope to win this trophy."
Iker Casillas
Iker Casillas, former Real Madrid and Spain captain and goalkeeper, were berserk on social media when Lionel Messi was named the FIFA Best Player of the Year. Casillas, who led Spain to 2010 World Cup victory, said he couldn't understand that if Messi was the best player for FIFA, how Van Dijk could be the best for UEFA. It would be ironical now if Cristiano Ronaldo wins the 2019 Ballon d'Or Trophy because football would be left with no logic then.
Ryan Giggs
Manchester United legend, a two-time Champions League winner with United and a former club teammate of Cristiano Ronaldo. But Ryan Giggs picked Lionel Messi as the winner for Ballon d'Or 2019 awards. "Obviously I lean towards Ronaldo a little bit because I played with him and saw him develop as a player," Giggs was quoted as saying by Fox Sports Asia. "But Messi is a genius, he's a once in a lifetime player. It's as simple as that."