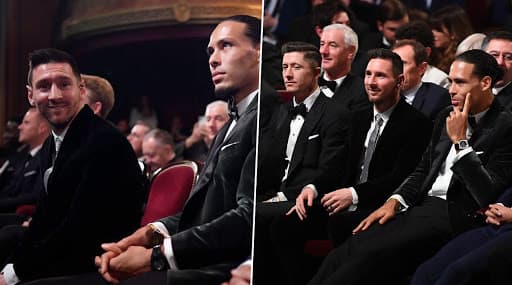 Class on and off the field, Virgil van Dijk shared a post on his Instagram account thanking everyone for the warm reception he received during the Ballon d'Or ceremony while hailing Lionel Messi and Cristiano Ronaldo as two of the greatest players of all time. The Liverpool defender also congratulated Argentina forward Leo Messi on winning a record-sixth Golden Ball and becoming the most decorated individual in footballing history. The Dutch center-back finished second in this year's Ballon d'Or, seven points behind the Barcelona forward. Van Dijk's comments about Ronaldo early during the Ballon d'Or ceremony got many fans angry but the defender also praised the Portuguese star stating him as one of the great's of the game. Ballon d'Or 2019 Awards: Lionel Messi Pips Virgil Van Dijk by Just 7 Votes to Win Sixth Golden Ball, Check Full Results.
It was a privilege to attend the 2019 Ballon d'Or, the defender captioned his post. The Dutch center-back continued by saying that he was humbled by the reception he got and was thankful for it. He later praised Lionel Messi for winning his sixth Ballon d'Or and said that he had enjoyed their battles this season and is looking for more in the coming years. The Liverpool center-back also expressed gratitude towards his team-mates from Liverpool and the Dutch National team. The Liverpool player then reflected the journey he has been in the past year and hopes that it can inspire others to believe in themselves and not give up on their dreams. Virgil van Dijk Takes a Jibe at Cristiano Ronaldo at Ballon d'Or 2019 Awards, CR7's Sister Katia Aveiro Reminds Liverpool Star of Champions League 2018!
See Instagram Post
This was an incredible year for Van Dijk as he played a vital part in Liverpool becoming European champions and was also instrumental in Netherlands reaching the Nations League Finals. He was awarded the UEFA player of the year award for his fantastic performances throughout the year. Virgil's club team-mate's Sadio Mane, Mohammad Salah and Alisson Becker also got a spot in the top 10 of Ballon d'Or rankings finishing fourth, fifth and seventh respectively.