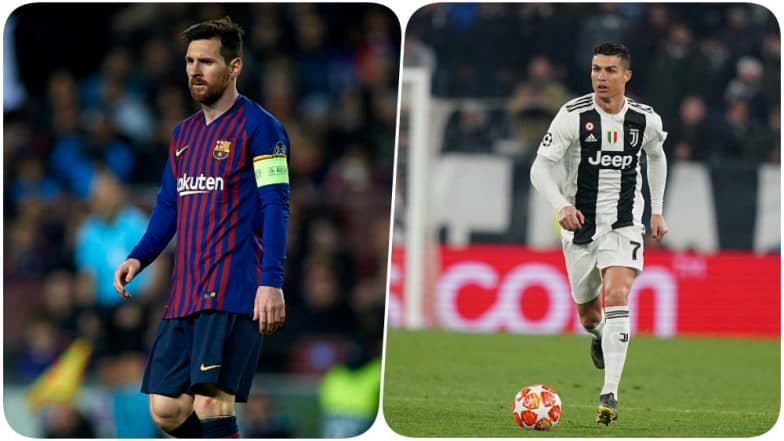 Lionel Messi was blazing guns against Lyon last night at Camp Nou in the Champions League 2018-19 contest in the second leg. Messi scored a couple of goals and won the game by 5-1 and Barcelona's aggregate was 5-1. The first goal was scored on the 17th minute and later in the 78th minute and then remained undefeated in the last 30 games without a defeat at their home stadium. But, it was another player in the Champions League who hogged the limelight for his hat-trick against Atletico Madrid during the Champions League tie. Messi hailed his arch rival after the match for the feat. Cristiano Ronaldo's Hat-Trick Against Atletico Madrid Breaks All-Time Record; Sends Juventus In Quarter Finals of Champions League 2018-19 (Watch Video).
Messi said, "Cristiano and Juventus were awesome," Messi told Movistar+ following Wednesday's win over Lyon. "It was a big surprise because I thought Atletico would be stronger. But Juventus overcame them and Cristiano had a magical night with three goals." It is very likely that the two stars would come face to face for the Champions League tie as both teams have secured a berth in the quarterfinals. "All rivals are difficult, we can't choose," he said. "We have to wait for the draw and see who will be our rival. City, Juventus, Ajax, all are really good. Liverpool have offensive success and they showed at Munich. All of them will be complicated," explained Messi. Cristiano Ronaldo Scores a Hat-Trick Against Atletico Madrid; Celebrates Juventus' Mimicking Diego Simeone's 'Cojones' Gesture (Watch Video)
Talking about Barcelona's match with Lyon last night, the Philippe Coutinho netted his first goal for the club since January. Gerard Pique and Ousmane Dembele then scored late in the match to add up to the scoreline.