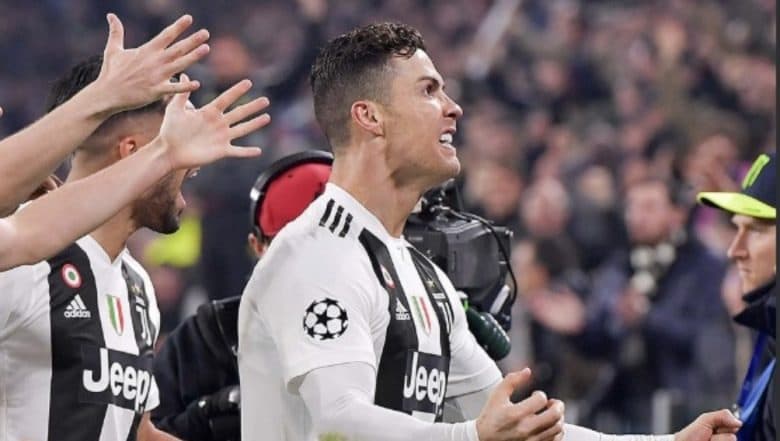 The Juventus Stadium last night witnessed a power packed performance from Cristiano Ronaldo as he scored a hat-trick against Atletico Madrid. The last time the two teams locked horns in the first leg of the Champions League 2018-19 at the Wanda Metropolitano, the Italian giants bit the dust losing 2-0. But this time things were quite different. The home team outplayed the Spanish side in all departments of the game. The Juventus forward made a mockery of Atletico Madrid's defence and with this Juventus is now in the quarterfinals of the Champions League as the team won 3-0. Juventus has an aggregate of 3-2.
With this hat-trick, CR7 broke all-time record and went on to become the first player ever to notch up 125 goals in all European competitions.Ronaldo stuck once in the first half and then twice in the second half. The first goal came at the 27th minute and then in the 49th minute. The last goal was scored Ronaldo as he converted his late penalty into a goal.. Check out the video highlights of the match below:
No sooner the goal was scored, netizens went berserk and hailed CR7. Check out a few tweets below:
Arsenal's Mesut Ozil praised CR7.
Amazing @Cristiano show 🔥👑 #UCL

— Mesut Özil (@MesutOzil1088) March 12, 2019
Here's what the official account of Champions League posted.
Cristiano Ronaldo's record in the #UCL = 🔥🔥🔥

⚽️1⃣2⃣4⃣

👕1⃣6⃣0⃣

⚪️⚫️ @Cristiano 👏👏👏 pic.twitter.com/iatUpJRCTz

— UEFA Champions League (@ChampionsLeague) March 12, 2019
Juventus also posted a tweet.
CR1 ⚽️

CR2 ⚽️⚽️

CR3 ⚽️⚽️⚽️@Cristiano #JuveAtleti pic.twitter.com/og8dSXKIcx

— JuventusFC (@juventusfc) March 12, 2019
Here's what a social media user said.
I haven't doubt that CR7 guide team to win👍👍👍 pic.twitter.com/UFj0cB769I

— 甲斐 洸樹 (@kaikouki100557) March 12, 2019
Cristiano Ronaldo after scoring the goals said, "Maybe that's why Juventus signed me," Ronaldo said. "To help it do things that it had never done before. This result is a great push for the future, we're strong and we showed it." Ronaldo celebrated the final gesture by mimicking the obscene gesture Atletico coach Diego Simeone made after the Spanish side's second goal in the first leg and had a final say in the second leg of the tournament.