Paulo Dybala has been in the news for a while now as his club Juventus has put him up on sale. He even sought advice from Cristiano Ronaldo for signing a deal with Manchester United on the team's Whatsapp group. CR7 had even guided him and had urged him to join the Red Devils but the deal couldn't crack. Cleary the striker is upset with Juventus for putting him up on a sale and now, Dybala has expressed his anger on social media too. Paulo Dybala Reportedly Cornered by Juventus, Forced to Train Alone Amid Transfer Reports to Manchester United.
Paulo Dybala has liked the tweet on social media which has slammed his club and Cristiano Ronaldo. A netizen posted a tweet on social media where the Internet user wrote, "Dybala in Juventus in the 4 years: 172 games, 78 goals (23, 19, 26, 10) as a second striker. Allegri pushed him away from the goal, Ronaldo scored 28 goals. CR7 is 35-years-old and after? Let's keep Paulo." The striker has liked the tweet and thus has expressed his anger.
Check out the picture below: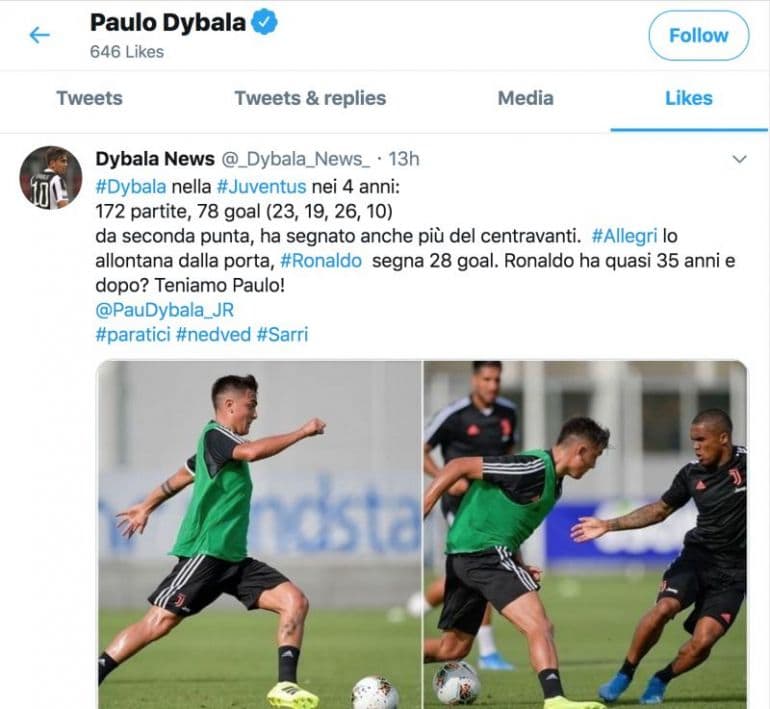 Dybala, for now, has reportedly offered himself to CR7's former team Real Madrid. After Cristiano Ronaldo joining Juventus, Dybala has scored only five goals in the last season. It is also reported that Dybala does not wish to join Lionel Messi's Barcelona due to a similar fall out with him in the national team. It would be interesting to see if he stays back with Juventus or moves to some other club.