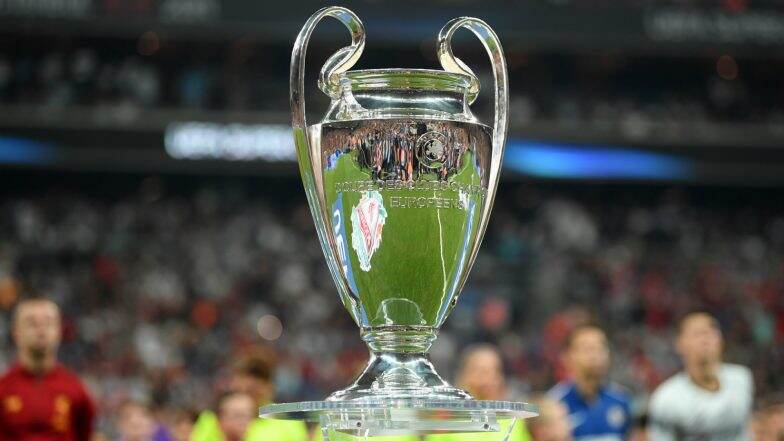 UEFA Champions League 2019/20 Group Stage Predictions, Group-by-Group Breakdown and Analysis: The fixtures of the UEFA Champions League 2019/20 Group Stage were decided in Monaco which has set up some mouth-watering contests. The premier competition of European football, which is known for its glitz and glamour starts on September 17, 2019. A total of 32 teams will be taking part in the Champions League divided into eight groups. As per the rules, top two teams from each group make it to the Round of 16 while the third-place side drops to the Europa League. Liverpool are the current holders of the European Cup. Here's a look at the eight groups along with the predicted top two sides to make it into the next round from each. Champions League Group Stage 2019-20 Draw OUT: Barcelona, Inter Milan in Group of Death; Liverpool, Real Madrid & Manchester City Handed Easy Draws.
Group A – Club Brugge, Galatasaray, PSG, Real Madrid
A pretty straightforward contest between Real Madrid and PSG here about finishing top of the group. Galatasaray and Club Brugge will battle it out for Europa League place where the Turkish side starts favourites. Both Real Madrid and PSG hope to go a long way in the competition and have invested heavily in their squads. The last time they met in the competition, it was an easy win for the Spanish side.
1) Real Madrid
2) PSG
Group B – Bayern Munich, Crvena Zvezda, Olympiacos, Tottenham Hotspur
Last seasons finalist Tottenham Hotspur and German champions Bayern Munich should make it to the next round. Bayern Munich were dumped out of the cup last year by Liverpool and were off-colour throughout the season. Olympiakos have a lot of experience playing in Europe, and that will help them finish third.
1) Tottenham Hotspur
2) Bayern Munich
Group C – Atlanta, Manchester City, Dinamo Zagreb, Shakhtar Donetsk
Pep Guardiola will be thanking his stars as it is yet another year of virtually no competition in the group stage for his Manchester City squad. Atlanta, Dinamo Zagreb and Shakhtar Donetsk are all mediocre clubs but Italian outfit Atlanta just might have enough in them to progress.
1) Manchester City
2) Atlanta
Group D – Atletico Madrid, Bayer Leverkusen, Juventus, Lokomotiv Moscow
Juventus and Atletico Madrid clash again in the UEFA Champions League after a brilliant duel last season where Cristiano Ronaldo's heroics was the talking point. German club Bayern Leverkusen will be tough to beat as well for the two fancied sides, but in the end, both should prevail. Leverkusen will have no problem clinching the Europa League berth.
1) Atletico Madrid
2) Juventus
Group E – Genk, Liverpool, Napoli, Red Bull
Liverpool have won more games than any other club in the last two seasons in Europe and looking at the way they have started this season, a top-place finish beckons the English side. Napoli should finish second while Belgian champions Genk have failed to win a game in the last two years. Red Bull, an incarnation of the old Salzburg team, could be playing in Europa League knock out stages.
1) Liverpool
2) Napoli
Group F – Barcelona, Dortmund, Inter Milan, Slavia Praha 
This season's group of death features Spanish champions Barcelona taking on a revamped Inter Milan led by Antonio Conte and German side Borussia Dortmund. Either of the three have the capability to beat each other on the given day, which makes things quite interesting in this group. Barcelona will have their key players fit before matchday 1, which is positive while Inter with their experienced bunch of players should finish second.
1) Barcelona
2) Inter Milan
Group G – Benfica, Lyon, RB Leipzig, Zenit Saint Petersburg
A few years ago Zenit Saint Petersburg defeated Manchester United in the UEFA Super Cup, but the club has failed to hit similar highs since. They will be up against Lyon who defeated Manchester City in the group stage last season and Benfica who have a competitive squad in the qualification race.
1) Lyon
2) Zenit St Petersburg
Group H – Ajax, Chelsea, LOSC, Valencia 
Chelsea make a comeback in Europe's premier competition after a no show last year where they will need to fight Ajax and Valencia for a place in the next round. Loss of two key players – Matthijs de Light and Frenkie de Jong have left the Dutch champions Ajax short of world-class performers, but they are still a decent outfit. Valencia, on the other hand, are an unpredictable team capable of upsets at home.
1) Ajax
2) Chelsea
The UEFA Champions League is known for producing those odd shock results, and the top clubs will be hoping to avoid any slip-ups. An early qualification helps them focus more on their domestic competition.