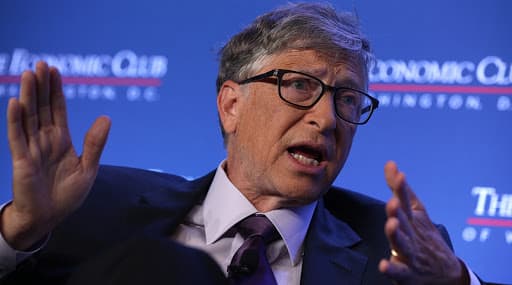 Call him a business magnate, investor, author, philanthropist or a humanitarian, Bill Gates has changed the perspective of the world leaders and transformed the idea of looking at innovations in the modern world. Considered as one of the best-known entrepreneurs of the personal computer revolution, Gates had faced criticism numerous times for his business tactics -- sometimes called anti-competitive. However, nothing could stop the second richest man from listening to his heart and reach out to the needy. With the American business magnate and philanthropist tuning 64 today, here's a small piece of information about his thoughts and life lessons to learn from Bill Gates to succeed in life.
Holding a record for being the world's wealthiest person by Forbes from 1995 to 2017, Gates held the top spot in the list from March 2014 to July 2017 consistently -- with an estimated net worth of USD 89.9 billion (October 2017). Though Amazon's Jeff Bezos surpassed Gates in 2018, the later still holds a net worth of USD 95.4 billion and is at the second spot in Forbes list. Bill Gates Explains Contributors And Effects of Climate Change Using Colourful Toys (Watch Video).
Gates stepped down as chairman of Microsoft in February 2014 and began pursuing several philanthropic endeavours. Along with his wife Melinda Gates, he started the Bill & Melinda Gates Foundation which is considered as world's largest private charity. Gates donated not only large amounts of money to various charitable organisations and scientific research programs, but also inspired other billionaires to pledge to give at least half of their wealth to philanthropy. Gates had also founded "The Giving Pledge", aiming to improve global health. Currently, Gates is the technical advisor of Microsoft and supports newly appointed CEO Satya Nadella.
Business lessons to learn from Bill Gates:
1) Software developers should be able to demand payment: Looking at the case when Microsoft's Altair BASIC copy was leaked and widely distributed, Gates wrote an 'Open Letter to Hobbyists' in the MITS newsletter asserting that more than 90 percent of the users of Microsoft Altair BASIC had not paid Microsoft for it. Though being criticised, Gates persisted that software developers should be able to demand payment.
2) Move fast, keep innovating: The tech developer has always mentioned that one should move at a faster speed and focus on continuous innovation to continue to remain in a saturated startup world. He had once said, "The most important speed issue is often not technical but cultural."
3) Learn from mistakes: Gates opine that one should accept failure and learn from it, rather than moaning about it and giving up. He had once said, "It's fine to celebrate success, but it is more important to heed the lessons of failure." According to gates, failures help taking back to the drawing board and help analyse the loopholes and causes of failure.
4) Persistence and perseverance: Gates is among those who believe in persistence and perseverance to attain success in life. Also, he is a firm believer of "taking risks" as out of the box thinking helps in discovering an unexplored path. Gates is also a firm believer of "never give up" approach.
and the last but not least,
5) Consider dissatisfied customers a huge asset: Among numerous issues, most entrepreneurs always rudely ignore their disgruntled customers. However, Gates opine that these customers are a huge asset as they teach us something that we don't know. Gates believe that to grow a business and sustain in the market, one must listen and values what disappointed customers are saying.