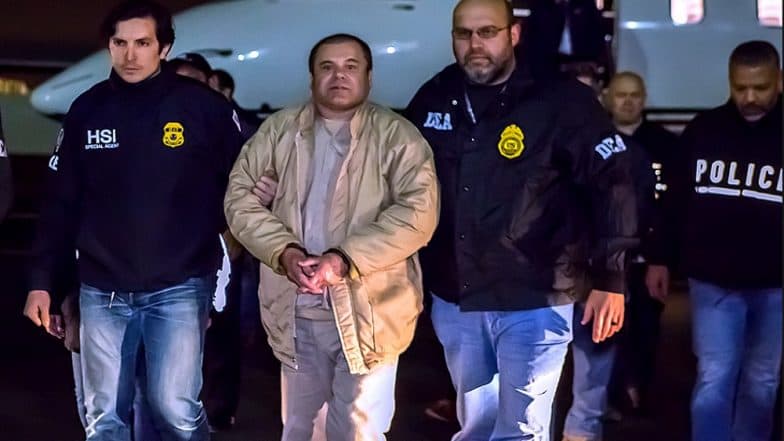 Toronto, February 13: Mexican druglord Joaquín "El Chapo" Guzmán who was standing trial in a U.S. court, has been found "guilty" by the jurors on all charges. The former head of one of Mexico's biggest drug and crime syndicates will now be sentenced on June 25.
The trial which lasted two-and-a-half months saw the 12 jurors – eight women and four men listen to more than 200 hours of testimony from 56 witnesses, go through dozens of boxes of physical evidence and they had to adhere to 60 pages of jury instructions. After deliberating for over 36 hours, the jurors found Guzman guilty of all the ten counts on which he had been charged.
Guzman was charged on ten counts:
Engaging in a Continuing Criminal Enterprise

International Cocaine, Heroin, Methamphetamine and Marijuana Manufacture and Distribution Conspiracy

Cocaine Importation Conspiracy

Cocaine Distribution Conspiracy

International Distribution of Cocaine

International Distribution of Cocaine

International Distribution of Cocaine

International Distribution of Cocaine

Use of Firearms

Conspiracy to Launder Narcotics Proceeds
Guzman reportedly showed no reaction to the verdict even as he faces life in prison on just the first count itself. Guzman's wife Emma Coronel, who is a former beauty queen was also present to hear the jury's verdict. She too showed no reaction as the jurors unanimously pronounced Guzman guilty on all counts. The CNN reported that after the jurors left, Guzmán looked at Coronel and waved. They smiled at each other, and she touched her hand to her chest.
The trial of Guzmán in the Brooklyn court after being extradited from Mexico is an achievement for US drug enforcement agencies. Guzman's drug operation at its peak put him in the list of Forbes' world's richest men at number 701, with an estimated worth of $1 billion. Read: Was Former Mexican President Peña Nieto Paid a $100 Million Bribe By Drug Lord El Chapo?
He was accused of exporting hundreds of tonnes of cocaine into the U.S. and of setting up the manufacturing and distribution of an equally massive amount of heroin, methamphetamine and marijuana. He was also said to have used hit-men to carry out "hundreds" of murders, assaults, kidnappings, rapes of young girls and acts of torture on rivals during his reign as the head of Sinaloa cartel.