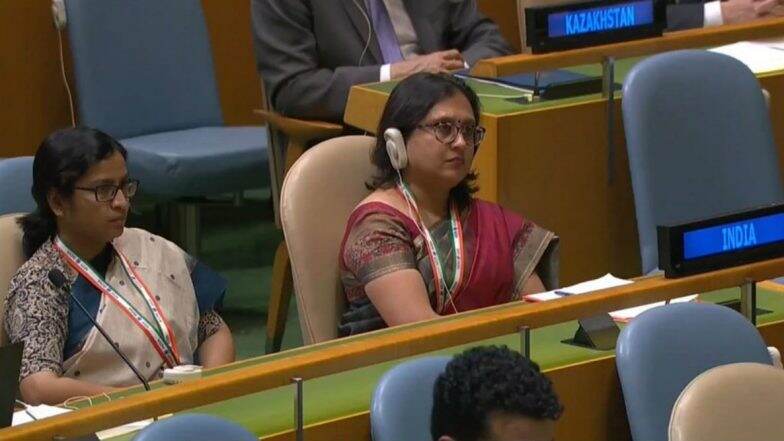 New York, September 28: India will exercise the 'Right to Reply' option to counter allegations made by Pakistan Prime Minister Imran Khan in his speech at the UN General Assembly (UNGA). A country uses the 'Right to Reply' option to defend itself against criticism in the same venue where it was made. Vidisha Maitra, First Secretary at India's Ministry of External Affairs (MEA), will retort Imran Khan's speech on behalf of the country. Narendra Modi Speech at UNGA: Built 11 Crore Toilets in 5 Years, Committed to Movement Against Single Use Plastic, Says India's Prime Minister.
Addressing the 74th session of the UNGA in New York on Friday, Khan warned that there "will be a bloodbath" in Indian Jammu and Kashmir when the curfew is lifted. He continued Pakistan's anti-India rhetoric over New Delhi's move to withdraw Jammu and Kashmir's special status under Article 370 and held out the threat of a conventional war spinning out of control between the two nuclear-armed neighbours. Imran Khan Goofs Up During UNGA Speech, Netizens Troll Pakistan PM on Twitter For 'President' Modi, 'Check on Google' Remarks and Exceeding Time Limit.
Khan said: "If a conventional war starts and anything could happen, supposing a country seven times smaller than its neighbour is faced with the choice, either you surrender or you fight for your freedom till death; And I asked myself this question, and my belief is 'La-ilaha-illallah', there is no God but one, and we will fight." He mentioned Prime Minister Narendra Modi's connection with RSS and said that the outfit believes in the ethnic cleansing of Muslims.
Khan, who exceeded the talk time allocated to him by a fair margin, said that the Muslims in India, which has the second-largest population of Muslims in the world, would get radicalised watching what is happening in Kashmir. "Don't you think they too will be radicalised? Then there will be blame on us again. Muslims will become radicals because of this, not because of Islam. Because they see no justice," he said.
Khan again warned that "there will be another Pulwama and then India will blame Pakistan," referring to the February 14 suicide attack in Pulwama, in which 40 Indian security personnel were killed by a Jaish-e-Mohammed operative. He also accused India of trying to push Pakistan to the Financial Action Task Force blacklist.