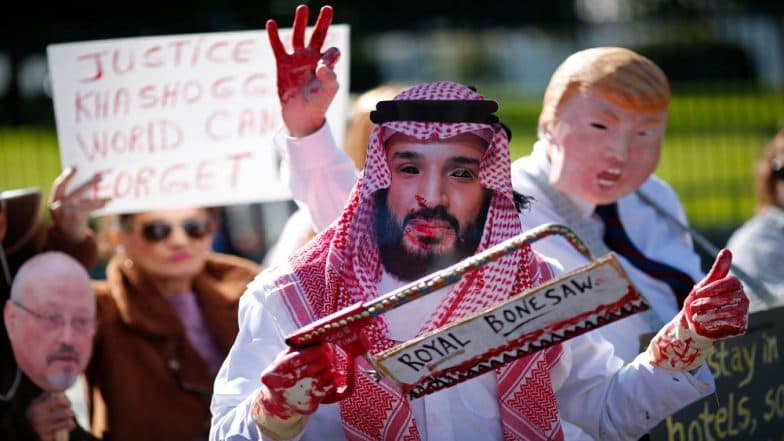 Riyadh, January 27: The United Nations' special rapporteur on executions, Agnes Callamard, who is heading the three-member panel probing the murder of journalist Jamal Khashoggi, has sought access to Saudi consulate in Istanbul, along with a visit to the Kingdom of Saudi Arabia. She has written to the KSA authorities, but is yet to receive a response.
Callamard has indicated that the probe could be scuttled if the UN team is not granted access to the location where Khashoggi was assassinated. A visit to the Kingdom would also be necessitated to ascertain the hierarchy of officials involved in the purported undercover murder plot. Jamal Khashoggi's Murder: Saudi Arabia Holds Initial Hearing in the Case.
Khashoggi was tortured and killed on October 2, 2018, when he had entered the Saudi consulate in Istanbul to procure documents for his marriage. His body was dismembered and decomposed at an undisclosed location, claims the inquiry conducted by the Turkish agencies.
The Saudi regime had earlier denied being involved in the murder of Khashoggi, but later accepted that he was killed inside the consulate "during an interrogation" which went wrong.
Under pressure, the Kingdom initiated its own probe and has indicted 11 officials for their alleged role in Khashoggi's killing. The public prosecutor has sought death penalty for 5 among the accused.
On the international level, the allegations are being levelled directly against Crown Prince Mohammed bin Salman, who was fiercely criticised by the late scribe in his columns for the Washington Post.
The Crown Prince was left with much to answer after a US intelligence report said the order to assassinate Khashoggi was issued directly by Mohammed bin Salman.
Callamard, who has been invited by the Tayyip Erdogan government to proceed with her probe in Istanbul, will prepare an inquiry report over the next six months. In June, she would table the report before UN Human Rights Council, recommending the group on how to proceed "formal accountability".