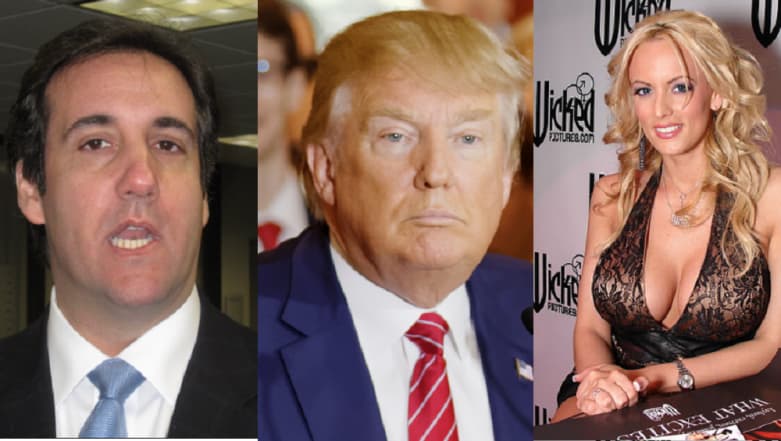 U.S. President Donald Trump's long-time personal attorney and a former executive vice president at the Trump Organization, Michael Cohen has always insisted he would remain loyal to the president. In previous interviews he has said, "he would take a bullet" for the President and even "jump from a building." However, in a sign that indicates Cohen's unhappiness with Trump, in a new interview with ABC channel's George Stephanopoulos, the President's former aide and fixer has professed new vows of loyalty but to his family and country.
"My wife, my daughter, and my son have my first loyalty and always will," Cohen told ABC's George Stephanopoulos in an interview conducted over the weekend. "I put family and country first."
As Stephanopoulos noted in the interview, that's a shift from previous comments Cohen has made about his allegiances. This interview will raise speculation that Trump's official 'fixer' may be prepared to "flip" and cooperate with both prosecutors in New York and investigators looking into Russian election interference in 2016 and alleged collusion between Trump aides and Moscow.
Cohen's shift in stand is triggered by Donald Trump's attempts to distance himself from his former lawyer. Trump said a few weeks ago that he "always liked Michael Cohen," though adding he hadn't spoken to him "in a long time." And the President previously tried to clarify that Cohen, "did a tiny, tiny percentage of work for me."
In a very telling indicator, Cohen broke with Donald Trump and his current lawyer Rudy Giuliani's attempts to discredit Special Counsel Robert Mueller's investigation, saying he doesn't like the term "witch hunt," the president's favored epithet on Twitter against the Mueller probe. "As an American, I repudiate Russia's or any other foreign government's attempt to interfere or meddle in our democratic process, and I would call on all Americans to do the same," he said. "Simply accepting the denial of Mr. Putin (of not interfering) is unsustainable."
Upon being further probed by Stephanopoulos whether he believes the Russians interfered in the 2016 presidential campaign, Cohen's answer came in the form of support for the agencies that have said such interference did occur. "I respect our nation's intelligence agencies'... unanimous conclusions," Cohen said, without explicitly stating that Donald Trump had denied such an occurrence.
When questioned about Trump's attacks on anyone involved in the various Russia-related investigations, Cohen also refrained from directly naming Trump when he criticized such characterizations. "I don't agree with those who demonize or vilify the FBI. I respect the FBI as an institution, as well as their agents," he said, going on to note that when his home and hotel room were raided by the FBI, "it was obviously upsetting to me and my family. Nonetheless, the agents were respectful, courteous and professional. I thanked them for their service and as they left. We shook hands."
Cohen's name has most strongly featured in the Stormy Daniels saga, for making payments to the porn star in in lieu of her silence over an alleged affair with Donald Trump in 2006. Trump first denied knowledge of any payments then finally admitted to reimbursing Cohen for the said payment. When asked by Stephanopoulos whether Trump directed him to pay Daniels for her silence, Cohen said that he could not comment, but suggested that he may at some point. "I want to answer. One day I will answer. But I can't comment now on the advice of my counsel," he said.
Cohen's statements in the interview come after he has been the focus of an investigation and could face charges including bank fraud, wire fraud and election campaign finance violations.