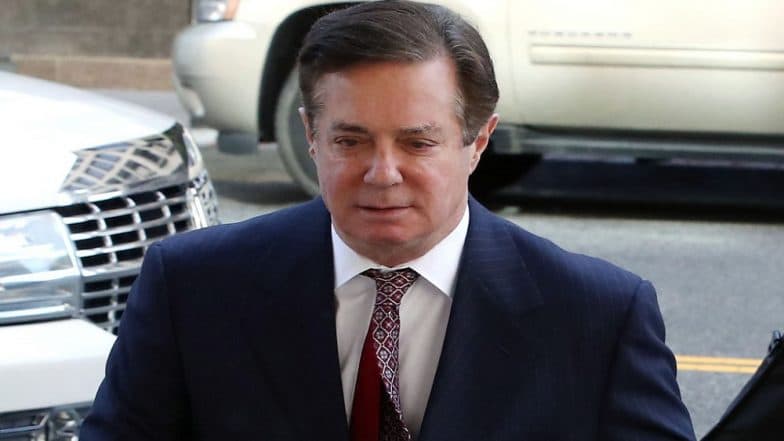 Washington, March 13: Former Donald Trump campaign manager Paul Manafort was sentenced to another 7.5 years in prison by a district court in Washington DC. The conviction comes shortly after he was handed over 43-month imprisonment for links with Russian establishment. The second case, which got Manafort convicted on Tuesday, also stemmed from Special Counsel Robert Mueller's investigation into the alleged Russian meddling in the 2016 United States presidential elections.
Manafort, 69, was charged by Judge Amy Beckson of lobbying in favour of a pro-Russia political party in Ukraine. The defence attorney appealed the bench to exercise restraint in awarding punishment, claiming that Manafort is a "mere casualty" in the ongoing probe by Mueller in the Russian meddling case. Mueller Probe: Russians Interacted With 14 Trump Campaign Officials During 2016-17.
"This defendant is not public enemy number one, but he's also not a victim either," the judge said, adding that, "There's no question this defendant knew better, and he knew exactly what he was doing."
Technically, the judge had sentenced Manafort on two counts -- first for 60 months, followed by 13 months. This is in addition to the 43-month sentenced awarded to him earlier. However, 30 months of the total sentenced would run concurrently.
Notably, the conviction of Manafort was preceded by the ex-Trump campaign chief pleading guilty to the accusation that he had lobbied for a pro-Russia political outfit in Ukraine.
"Let me be very clear: I accept responsibility for the actions that led me to be here today, and I want to apologize for all I contributed to the impacts on people and institutions. While I cannot change the past, I can work to change the future," he said in his note of apology before the judge.